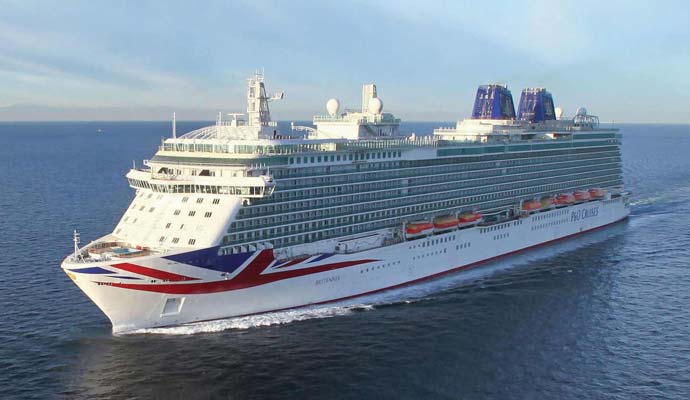 P&O Low Deposit & Onboard Spend!
Secure your dream holiday with P&O for an amazing low deposit of only £25 per person! Plus, your family and friends can enjoy incredible savings with up to two guests sailing from only £1 per person when they jon two full paying adults.
Plus on seletced fares, you can even get onboard spend when you book and oceanview or above. And don't forget - from May 2019 there are no service charges with P&O, meaning you can tip staff at your discretion.
Cruise Deals departing in
Departure
What's Included?
Price (From)

Norwegian Fjords

Southampton

-

Stavanger

-

Olden

-

Geirangerfjord

-

Hellesylt

-

Geiranger

-

Bergen

-

Southampton

Iona | 9 nights

14 May 20

No Fly Cruise
Brand New Ship!

£

CALL

View Deal

Scandinavia

Iona

P&O Cruises

Southampton

-

Stavanger

-

Olden

-

Geirangerfjord

-

Hellesylt

-

Geiranger

-

Bergen

-

Southampton

Short Breaks

Southampton

-

St. Peter Port, Guernsey

-

Southampton

Ventura | 2 nights

18 Jul 20

£

229

View Deal

Europe

Ventura

P&O Cruises

Southampton

-

St. Peter Port, Guernsey

-

Southampton

Short Breaks

Southampton

-

Cherbourg

-

Southampton

Ventura | 2 nights

08 Aug 20

£

229

View Deal

Europe

Ventura

P&O Cruises

Southampton

-

Cherbourg

-

Southampton

Guernsey

Southampton

-

St. Peter Port, Guernsey

-

Southampton

Aurora | 2 nights

07 Jul 19

£

292

View Deal

Europe

Aurora

P&O Cruises

Southampton

-

St. Peter Port, Guernsey

-

Southampton

Belgium

Southampton

-

Brugge

-

Southampton

Britannia | 2 nights

05 Apr 19

£

299

View Deal

Europe

Britannia

P&O Cruises

Southampton

-

Brugge

-

Southampton

Guernsey

Southampton

-

St. Peter Port, Guernsey

-

Southampton

Arcadia | 2 nights

17 May 19

£

306

View Deal

Europe

Arcadia

P&O Cruises

Southampton

-

St. Peter Port, Guernsey

-

Southampton

Guernsey

Southampton

-

St. Peter Port, Guernsey

-

Southampton

Ventura | 2 nights

24 May 19

£

309

View Deal

Europe

Ventura

P&O Cruises

Southampton

-

St. Peter Port, Guernsey

-

Southampton

Guernsey

Southampton

-

St. Peter Port, Guernsey

-

Southampton

Azura | 2 nights

31 Aug 19

£

332

View Deal

Europe

Azura

P&O Cruises

Southampton

-

St. Peter Port, Guernsey

-

Southampton

Belgium

Southampton

-

Brugge

-

Southampton

Britannia | 2 nights

21 Sep 19

£

342

View Deal

Europe

Britannia

P&O Cruises

Southampton

-

Brugge

-

Southampton

Guernsey

Southampton

-

St. Peter Port, Guernsey

-

Southampton

Oriana | 3 nights

19 Jul 19

£

369

View Deal

Europe

Oriana

P&O Cruises

Southampton

-

St. Peter Port, Guernsey

-

Southampton

Belgium and Guernsey

Southampton

-

Brugge

-

St. Peter Port, Guernsey

-

Southampton

Ventura | 4 nights

19 Apr 19

£

449

View Deal

Europe

Ventura

P&O Cruises

Southampton

-

Brugge

-

St. Peter Port, Guernsey

-

Southampton

The Netherlands, Belgium and Guernsey

Southampton

-

Rotterdam

-

Brugge

-

Cherbourg

-

St. Peter Port, Guernsey

-

Southampton

Azura | 7 nights

27 Apr 19

£

465

View Deal

Europe

Azura

P&O Cruises

Southampton

-

Rotterdam

-

Brugge

-

Cherbourg

-

St. Peter Port, Guernsey

-

Southampton

France, Spain and Guernsey

Southampton

-

Cherbourg

-

La Coruna

-

Bilbao

-

St. Peter Port, Guernsey

-

Southampton

Britannia | 7 nights

20 Apr 19

£

485

View Deal

Europe, Iberian Peninsula

Britannia

P&O Cruises

Southampton

-

Cherbourg

-

La Coruna

-

Bilbao

-

St. Peter Port, Guernsey

-

Southampton

Short Breaks

Southampton

-

Rotterdam

-

Brugge

-

Cherbourg

-

Southampton

Britannia | 7 nights

19 Apr 20

£

530

View Deal

Europe

Britannia

P&O Cruises

Southampton

-

Rotterdam

-

Brugge

-

Cherbourg

-

Southampton

Guernsey

Southampton

-

St. Peter Port, Guernsey

-

Southampton

Arcadia | 3 nights

21 Jun 19

£

549

View Deal

Europe

Arcadia

P&O Cruises

Southampton

-

St. Peter Port, Guernsey

-

Southampton

Canary Islands & Iberia

Southampton

-

Cherbourg

-

La Coruna

-

Bilbao

-

St. Peter Port, Guernsey

-

Southampton

Britannia | 7 nights

12 Apr 20

£

559

View Deal

Europe, Iberian Peninsula

Britannia

P&O Cruises

Southampton

-

Cherbourg

-

La Coruna

-

Bilbao

-

St. Peter Port, Guernsey

-

Southampton

Canary Islands & Iberia

Southampton

-

Vigo

-

Lisbon

-

Oporto

-

St. Peter Port, Guernsey

-

Southampton

Aurora | 7 nights

04 Apr 20

£

559

View Deal

Canaries, Iberian Peninsula

Aurora

P&O Cruises

Southampton

-

Vigo

-

Lisbon

-

Oporto

-

St. Peter Port, Guernsey

-

Southampton

Canary Islands & Iberia

Southampton

-

St. Peter Port, Guernsey

-

Oporto

-

Lisbon

-

Vigo

-

Southampton

Ventura | 7 nights

20 Jun 20

£

559

View Deal

Canaries, Iberian Peninsula

Ventura

P&O Cruises

Southampton

-

St. Peter Port, Guernsey

-

Oporto

-

Lisbon

-

Vigo

-

Southampton

Canary Islands & Iberia

Southampton

-

St. Peter Port, Guernsey

-

El Ferrol

-

Santander

-

La Rochelle

-

Southampton

Aurora | 7 nights

24 Apr 20

£

579

View Deal

Canaries, Iberian Peninsula

Aurora

P&O Cruises

Southampton

-

St. Peter Port, Guernsey

-

El Ferrol

-

Santander

-

La Rochelle

-

Southampton

Guernsey and Belgium

Southampton

-

St. Peter Port, Guernsey

-

Brugge

-

Southampton

Aurora | 4 nights

16 Aug 19

£

579

View Deal

Europe

Aurora

P&O Cruises

Southampton

-

St. Peter Port, Guernsey

-

Brugge

-

Southampton

Norwegian Fjords

Southampton

-

Stavanger

-

Olden

-

Alesund

-

Bergen

-

Southampton

Ventura | 7 nights

05 May 19

£

582

View Deal

Scandinavia

Ventura

P&O Cruises

Southampton

-

Stavanger

-

Olden

-

Alesund

-

Bergen

-

Southampton

France, Spain and Guernsey

Southampton

-

Cherbourg

-

La Coruna

-

Santander

-

St. Peter Port, Guernsey

-

Southampton

Azura | 7 nights

04 May 19

£

582

View Deal

Europe

Azura

P&O Cruises

Southampton

-

Cherbourg

-

La Coruna

-

Santander

-

St. Peter Port, Guernsey

-

Southampton

Guernsey, Belgium and The Netherlands

Southampton

-

St. Peter Port, Guernsey

-

Brugge

-

Rotterdam

-

Southampton

Britannia | 7 nights

01 Jun 19

£

582

View Deal

Europe

Britannia

P&O Cruises

Southampton

-

St. Peter Port, Guernsey

-

Brugge

-

Rotterdam

-

Southampton

Roundtrip Southampton

Southampton

-

Vigo

-

Lisbon

-

Oporto

-

Cherbourg

-

Southampton

Ventura | 7 nights

03 Oct 20

£

607

View Deal

Iberian Peninsula

Ventura

P&O Cruises

Southampton

-

Vigo

-

Lisbon

-

Oporto

-

Cherbourg

-

Southampton

Canary Islands & Iberia

Southampton

-

St. Peter Port, Guernsey

-

Oporto

-

Lisbon

-

Vigo

-

Southampton

Ventura | 7 nights

01 Jun 20

£

607

View Deal

Canaries, Iberian Peninsula

Ventura

P&O Cruises

Southampton

-

St. Peter Port, Guernsey

-

Oporto

-

Lisbon

-

Vigo

-

Southampton

Norwegian Fjords

Southampton

-

Stavanger

-

Olden

-

Alesund

-

Bergen

-

Southampton

Azura | 7 nights

20 Apr 19

£

611

View Deal

Scandinavia

Azura

P&O Cruises

Southampton

-

Stavanger

-

Olden

-

Alesund

-

Bergen

-

Southampton

France, Spain and Guernsey

Southampton

-

St. Peter Port, Guernsey

-

Santander

-

Le Verdon

-

Cherbourg

-

Southampton

Arcadia | 7 nights

19 May 19

£

611

View Deal

Europe

Arcadia

P&O Cruises

Southampton

-

St. Peter Port, Guernsey

-

Santander

-

Le Verdon

-

Cherbourg

-

Southampton

The Netherlands, Belgium and Guernsey

Southampton

-

Amsterdam

-

Brugge

-

St. Peter Port, Guernsey

-

Southampton

Ventura | 7 nights

14 Jul 19

£

611

View Deal

Europe

Ventura

P&O Cruises

Southampton

-

Amsterdam

-

Brugge

-

St. Peter Port, Guernsey

-

Southampton

The Netherlands, Belgium and Guernsey

Southampton

-

Rotterdam

-

Brugge

-

St. Peter Port, Guernsey

-

Southampton

Britannia | 7 nights

29 Mar 19

£

611

View Deal

Europe

Britannia

P&O Cruises

Southampton

-

Rotterdam

-

Brugge

-

St. Peter Port, Guernsey

-

Southampton

Canary Islands & Iberia

Southampton

-

Vigo

-

Lisbon

-

Oporto

-

Cherbourg

-

Southampton

Ventura | 7 nights

24 Oct 20

£

627

View Deal

Iberian Peninsula

Ventura

P&O Cruises

Southampton

-

Vigo

-

Lisbon

-

Oporto

-

Cherbourg

-

Southampton

Norwegian Fjords

Southampton

-

Stavanger

-

Flam

-

Aurland

-

Sognefjord

-

Olden

-

Bergen

-

Southampton

Azura | 7 nights

11 May 19

£

630

View Deal

Scandinavia

Azura

P&O Cruises

Southampton

-

Stavanger

-

Flam

-

Aurland

-

Sognefjord

-

Olden

-

Bergen

-

Southampton

The Netherlands, Belgium and Guernsey

Southampton

-

Amsterdam

-

Brugge

-

St. Peter Port, Guernsey

-

Southampton

Ventura | 7 nights

12 Apr 19

£

630

View Deal

Europe

Ventura

P&O Cruises

Southampton

-

Amsterdam

-

Brugge

-

St. Peter Port, Guernsey

-

Southampton

Norwegian Fjords

Southampton

-

Stavanger

-

Flam

-

Aurland

-

Sognefjord

-

Alesund

-

Bergen

-

Southampton

Azura | 7 nights

01 Jun 19

£

649

View Deal

Scandinavia

Azura

P&O Cruises

Southampton

-

Stavanger

-

Flam

-

Aurland

-

Sognefjord

-

Alesund

-

Bergen

-

Southampton

Short Breaks

Southampton

-

Hamburg

-

Amsterdam

-

Brugge

-

Southampton

Arcadia | 7 nights

05 Jul 20

£

656

View Deal

Europe

Arcadia

P&O Cruises

Southampton

-

Hamburg

-

Amsterdam

-

Brugge

-

Southampton

France, Spain and Guernsey

Southampton

-

Cherbourg

-

La Coruna

-

Santander

-

St. Peter Port, Guernsey

-

Southampton

Britannia | 7 nights

25 May 19

£

659

View Deal

Europe

Britannia

P&O Cruises

Southampton

-

Cherbourg

-

La Coruna

-

Santander

-

St. Peter Port, Guernsey

-

Southampton

Canary Islands & Iberia

Southampton

-

St. Peter Port, Guernsey

-

Oporto

-

Lisbon

-

Vigo

-

Southampton

Ventura | 7 nights

11 Jul 20

£

675

View Deal

Iberian Peninsula

Ventura

P&O Cruises

Southampton

-

St. Peter Port, Guernsey

-

Oporto

-

Lisbon

-

Vigo

-

Southampton

Spain, Portugal & Guernsey

Southampton

-

St. Peter Port, Guernsey

-

Oporto

-

Lisbon

-

Vigo

-

Southampton

Ventura | 7 nights

12 Sep 20

£

675

View Deal

Iberian Peninsula

Ventura

P&O Cruises

Southampton

-

St. Peter Port, Guernsey

-

Oporto

-

Lisbon

-

Vigo

-

Southampton

Canary Islands & Iberia

Southampton

-

La Rochelle

-

Santander

-

El Ferrol

-

St. Peter Port, Guernsey

-

Southampton

Aurora | 7 nights

09 Aug 20

£

675

View Deal

Iberian Peninsula

Aurora

P&O Cruises

Southampton

-

La Rochelle

-

Santander

-

El Ferrol

-

St. Peter Port, Guernsey

-

Southampton

France, Spain and Guernsey

Southampton

-

Cherbourg

-

La Coruna

-

Santander

-

St. Peter Port, Guernsey

-

Southampton

Ventura | 7 nights

21 Jul 19

£

679

View Deal

Europe

Ventura

P&O Cruises

Southampton

-

Cherbourg

-

La Coruna

-

Santander

-

St. Peter Port, Guernsey

-

Southampton

Norwegian Fjords

Southampton

-

Stavanger

-

Flam

-

Aurland

-

Sognefjord

-

Olden

-

Bergen

-

Southampton

Britannia | 7 nights

27 Apr 19

£

679

View Deal

Scandinavia

Britannia

P&O Cruises

Southampton

-

Stavanger

-

Flam

-

Aurland

-

Sognefjord

-

Olden

-

Bergen

-

Southampton

France, Spain and Guernsey

Southampton

-

La Rochelle

-

Santander

-

El Ferrol

-

St. Peter Port, Guernsey

-

Southampton

Oriana | 7 nights

28 Jun 19

£

679

View Deal

Europe, Mediterranean

Oriana

P&O Cruises

Southampton

-

La Rochelle

-

Santander

-

El Ferrol

-

St. Peter Port, Guernsey

-

Southampton

The Netherlands, Belgium and Guernsey

Southampton

-

Amsterdam

-

Brugge

-

St. Peter Port, Guernsey

-

Southampton

Ventura | 7 nights

30 Aug 19

£

679

View Deal

Europe

Ventura

P&O Cruises

Southampton

-

Amsterdam

-

Brugge

-

St. Peter Port, Guernsey

-

Southampton

Spain and Guernsey

Southampton

-

Santander

-

Gijon

-

La Coruna

-

St. Peter Port, Guernsey

-

Southampton

Aurora | 7 nights

14 Jun 19

£

685

View Deal

Europe, Mediterranean, Iberian Peninsula

Aurora

P&O Cruises

Southampton

-

Santander

-

Gijon

-

La Coruna

-

St. Peter Port, Guernsey

-

Southampton

Spain, Portugal and Guernsey

Southampton

-

Vigo

-

Lisbon

-

Oporto

-

St. Peter Port, Guernsey

-

Southampton

Ventura | 7 nights

05 Apr 19

£

699

View Deal

Europe, Mediterranean

Ventura

P&O Cruises

Southampton

-

Vigo

-

Lisbon

-

Oporto

-

St. Peter Port, Guernsey

-

Southampton

Norwegian Fjords

Southampton

-

Stavanger

-

Alesund

-

Olden

-

Bergen

-

Southampton

Ventura | 7 nights

16 Jun 19

£

727

View Deal

Scandinavia

Ventura

P&O Cruises

Southampton

-

Stavanger

-

Alesund

-

Olden

-

Bergen

-

Southampton

Norwegian Fjords

Southampton

-

Stavanger

-

Flam

-

Aurland

-

Sognefjord

-

Olden

-

Bergen

-

Southampton

Britannia | 7 nights

08 Jun 19

£

727

View Deal

Scandinavia

Britannia

P&O Cruises

Southampton

-

Stavanger

-

Flam

-

Aurland

-

Sognefjord

-

Olden

-

Bergen

-

Southampton

Norwegian Fjords

Southampton

-

Stavanger

-

Olden

-

Alesund

-

Bergen

-

Southampton

Britannia | 7 nights

10 Aug 19

£

727

View Deal

Scandinavia

Britannia

P&O Cruises

Southampton

-

Stavanger

-

Olden

-

Alesund

-

Bergen

-

Southampton

France, Spain and Guernsey

Southampton

-

Cherbourg

-

Santander

-

Le Verdon

-

St. Peter Port, Guernsey

-

Southampton

Arcadia | 7 nights

13 Jul 19

£

727

View Deal

Europe

Arcadia

P&O Cruises

Southampton

-

Cherbourg

-

Santander

-

Le Verdon

-

St. Peter Port, Guernsey

-

Southampton

France, Spain and Guernsey

Southampton

-

Cherbourg

-

La Coruna

-

Santander

-

St. Peter Port, Guernsey

-

Southampton

Ventura | 7 nights

23 Aug 19

£

756

View Deal

Europe

Ventura

P&O Cruises

Southampton

-

Cherbourg

-

La Coruna

-

Santander

-

St. Peter Port, Guernsey

-

Southampton

Italian Job and Corsica

Malta

-

Naples

-

Rome (Civitavecchia)

-

Ajaccio

-

Olbia/Sardinia

-

Malta

Oceana | 7 nights

18 Apr 19

Flights Included
Free Transfers

£

769

View Deal

Europe, Mediterranean

Oceana

P&O Cruises

Malta

-

Naples

-

Rome (Civitavecchia)

-

Ajaccio

-

Olbia/Sardinia

-

Malta

Norway & Iceland

Southampton

-

Stavanger

-

Olden

-

Alesund

-

Bergen

-

Southampton

Iona | 7 nights

19 Sep 20

£

770

View Deal

Scandinavia

Iona

P&O Cruises

Southampton

-

Stavanger

-

Olden

-

Alesund

-

Bergen

-

Southampton

Norwegian Fjords

Southampton

-

Stavanger

-

Olden

-

Hellesylt

-

Geiranger

-

Geirangerfjord

-

Bergen

-

Southampton

Iona | 7 nights

04 Jul 20

No Fly Cruise
Brand New Ship!

£

772

View Deal

Scandinavia

Iona

P&O Cruises

Southampton

-

Stavanger

-

Olden

-

Hellesylt

-

Geiranger

-

Geirangerfjord

-

Bergen

-

Southampton

Norwegian Fjords

Southampton

-

Stavanger

-

Olden

-

Hellesylt

-

Geiranger

-

Geirangerfjord

-

Bergen

-

Southampton

Iona | 7 nights

11 Jul 20

No Fly Cruise
Brand New Ship!

£

772

View Deal

Scandinavia

Iona

P&O Cruises

Southampton

-

Stavanger

-

Olden

-

Hellesylt

-

Geiranger

-

Geirangerfjord

-

Bergen

-

Southampton

Norwegian Fjords

Southampton

-

Stavanger

-

Olden

-

Hellesylt

-

Geiranger

-

Geirangerfjord

-

Bergen

-

Southampton

Iona | 7 nights

18 Jul 20

No Fly Cruise
Brand New Ship!

£

772

View Deal

Scandinavia

Iona

P&O Cruises

Southampton

-

Stavanger

-

Olden

-

Hellesylt

-

Geiranger

-

Geirangerfjord

-

Bergen

-

Southampton

Norwegian Fjords

Southampton

-

Stavanger

-

Olden

-

Hellesylt

-

Geiranger

-

Geirangerfjord

-

Bergen

-

Southampton

Iona | 7 nights

15 Aug 20

No Fly Cruise
Brand New Ship!

£

772

View Deal

Scandinavia

Iona

P&O Cruises

Southampton

-

Stavanger

-

Olden

-

Hellesylt

-

Geiranger

-

Geirangerfjord

-

Bergen

-

Southampton

Norwegian Fjords

Southampton

-

Stavanger

-

Olden

-

Hellesylt

-

Geiranger

-

Geirangerfjord

-

Bergen

-

Southampton

Iona | 7 nights

22 Aug 20

No Fly Cruise
Brand New Ship!

£

772

View Deal

Scandinavia

Iona

P&O Cruises

Southampton

-

Stavanger

-

Olden

-

Hellesylt

-

Geiranger

-

Geirangerfjord

-

Bergen

-

Southampton

Norwegian Fjords

Southampton

-

Stavanger

-

Olden

-

Hellesylt

-

Geiranger

-

Geirangerfjord

-

Bergen

-

Southampton

Iona | 7 nights

05 Sep 20

No Fly Cruise
Brand New Ship!

£

772

View Deal

Scandinavia

Iona

P&O Cruises

Southampton

-

Stavanger

-

Olden

-

Hellesylt

-

Geiranger

-

Geirangerfjord

-

Bergen

-

Southampton

Norway & Iceland

Southampton

-

Stavanger

-

Olden

-

Alesund

-

Bergen

-

Southampton

Iona | 7 nights

12 Sep 20

£

772

View Deal

Scandinavia

Iona

P&O Cruises

Southampton

-

Stavanger

-

Olden

-

Alesund

-

Bergen

-

Southampton

Norwegian Fjords

Southampton

-

Stavanger

-

Olden

-

Hellesylt

-

Geiranger

-

Geirangerfjord

-

Bergen

-

Southampton

Iona | 7 nights

06 Jun 20

No Fly Cruise
Brand New Ship!

£

772

View Deal

Scandinavia

Iona

P&O Cruises

Southampton

-

Stavanger

-

Olden

-

Hellesylt

-

Geiranger

-

Geirangerfjord

-

Bergen

-

Southampton

Norwegian Fjords

Southampton

-

Stavanger

-

Olden

-

Hellesylt

-

Geiranger

-

Geirangerfjord

-

Bergen

-

Southampton

Iona | 7 nights

01 Aug 20

No Fly Cruise
Brand New Ship!

£

772

View Deal

Scandinavia

Iona

P&O Cruises

Southampton

-

Stavanger

-

Olden

-

Hellesylt

-

Geiranger

-

Geirangerfjord

-

Bergen

-

Southampton

Norwegian Fjords

Southampton

-

Stavanger

-

Olden

-

Hellesylt

-

Geiranger

-

Geirangerfjord

-

Bergen

-

Southampton

Iona | 7 nights

08 Aug 20

No Fly Cruise
Brand New Ship!

£

772

View Deal

Scandinavia

Iona

P&O Cruises

Southampton

-

Stavanger

-

Olden

-

Hellesylt

-

Geiranger

-

Geirangerfjord

-

Bergen

-

Southampton

Canary Islands & Iberia

Southampton

-

St. Peter Port, Guernsey

-

Oporto

-

Lisbon

-

Vigo

-

Southampton

Ventura | 7 nights

01 Aug 20

£

772

View Deal

Iberian Peninsula

Ventura

P&O Cruises

Southampton

-

St. Peter Port, Guernsey

-

Oporto

-

Lisbon

-

Vigo

-

Southampton

Norwegian Fjords

Southampton

-

Stavanger

-

Flam

-

Aurland

-

Sognefjord

-

Olden

-

Bergen

-

Southampton

Azura | 7 nights

03 Aug 19

£

776

View Deal

Scandinavia

Azura

P&O Cruises

Southampton

-

Stavanger

-

Flam

-

Aurland

-

Sognefjord

-

Olden

-

Bergen

-

Southampton

Norwegian Fjords

Southampton

-

Stavanger

-

Flam

-

Aurland

-

Sognefjord

-

Olden

-

Bergen

-

Southampton

Ventura | 7 nights

16 Aug 19

£

776

View Deal

Scandinavia

Ventura

P&O Cruises

Southampton

-

Stavanger

-

Flam

-

Aurland

-

Sognefjord

-

Olden

-

Bergen

-

Southampton

Norwegian Fjords

Southampton

-

Stavanger

-

Olden

-

Alesund

-

Bergen

-

Southampton

Ventura | 7 nights

28 Jul 19

£

776

View Deal

Scandinavia

Ventura

P&O Cruises

Southampton

-

Stavanger

-

Olden

-

Alesund

-

Bergen

-

Southampton

Norwegian Fjords

Southampton

-

Stavanger

-

Olden

-

Alesund

-

Bergen

-

Southampton

Britannia | 7 nights

18 May 19

£

776

View Deal

Scandinavia

Britannia

P&O Cruises

Southampton

-

Stavanger

-

Olden

-

Alesund

-

Bergen

-

Southampton

Norwegian Fjords

Southampton

-

Stavanger

-

Flam

-

Aurland

-

Sognefjord

-

Alesund

-

Bergen

-

Southampton

Britannia | 7 nights

29 Jun 19

£

776

View Deal

Scandinavia

Britannia

P&O Cruises

Southampton

-

Stavanger

-

Flam

-

Aurland

-

Sognefjord

-

Alesund

-

Bergen

-

Southampton

Norwegian Fjords

Southampton

-

Stavanger

-

Flam

-

Aurland

-

Sognefjord

-

Olden

-

Bergen

-

Southampton

Britannia | 7 nights

31 Aug 19

£

776

View Deal

Scandinavia

Britannia

P&O Cruises

Southampton

-

Stavanger

-

Flam

-

Aurland

-

Sognefjord

-

Olden

-

Bergen

-

Southampton

Norwegian Fjords

Southampton

-

Stavanger

-

Flam

-

Aurland

-

Sognefjord

-

Olden

-

Bergen

-

Southampton

Azura | 7 nights

22 Jun 19

£

776

View Deal

Scandinavia

Azura

P&O Cruises

Southampton

-

Stavanger

-

Flam

-

Aurland

-

Sognefjord

-

Olden

-

Bergen

-

Southampton

Norwegian Fjords

Southampton

-

Stavanger

-

Olden

-

Alesund

-

Bergen

-

Southampton

Azura | 7 nights

13 Jul 19

£

776

View Deal

Scandinavia

Azura

P&O Cruises

Southampton

-

Stavanger

-

Olden

-

Alesund

-

Bergen

-

Southampton

Norwegian Fjords

Southampton

-

Stavanger

-

Olden

-

Hellesylt

-

Geiranger

-

Geirangerfjord

-

Bergen

-

Southampton

Iona | 7 nights

23 May 20

No Fly Cruise
Brand New Ship!

£

793

View Deal

Scandinavia

Iona

P&O Cruises

Southampton

-

Stavanger

-

Olden

-

Hellesylt

-

Geiranger

-

Geirangerfjord

-

Bergen

-

Southampton

Croatian Gems & Venice

Malta

-

Dubrovnik

-

Sibenik

-

Venice

-

Zadar, Croatia

-

Malta

Oceana | 7 nights

25 Apr 19

Flights Included
Up to £300 Onboard Spend Per Stateroom
Includes Transfers

£

799

View Deal

Europe, Mediterranean

Oceana

P&O Cruises

Malta

-

Dubrovnik

-

Sibenik

-

Venice

-

Zadar, Croatia

-

Malta

Italian Job and Corsica

Malta

-

Naples

-

Rome (Civitavecchia)

-

Ajaccio

-

Olbia/Sardinia

-

Malta

Oceana | 7 nights

26 Sep 19

Flights Included
Free Transfers

£

799

View Deal

Europe, Mediterranean

Oceana

P&O Cruises

Malta

-

Naples

-

Rome (Civitavecchia)

-

Ajaccio

-

Olbia/Sardinia

-

Malta

7nt Italy, Monaco & Corsica

Malta

-

Rome (Civitavecchia)

-

Florence/Pisa

-

Monte Carlo

-

Ajaccio

-

Malta

Oceana | 7 nights

09 May 19

Flights Included
Includes Transfers

£

819

View Deal

Europe, Mediterranean

Oceana

P&O Cruises

Malta

-

Rome (Civitavecchia)

-

Florence/Pisa

-

Monte Carlo

-

Ajaccio

-

Malta

7nt Corsica, France and Italy

Malta

-

Ajaccio

-

Nice (Villefranche)

-

Florence/Pisa

-

Rome (Civitavecchia)

-

Malta

Oceana | 7 nights

23 May 19

Flights Included
Includes Transfers

£

819

View Deal

Europe, Mediterranean

Oceana

P&O Cruises

Malta

-

Ajaccio

-

Nice (Villefranche)

-

Florence/Pisa

-

Rome (Civitavecchia)

-

Malta

Norwegian Fjords

Southampton

-

Stavanger

-

Olden

-

Hellesylt

-

Geiranger

-

Geirangerfjord

-

Bergen

-

Southampton

Iona | 7 nights

13 Jun 20

No Fly Cruise
Brand New Ship!

£

820

View Deal

Scandinavia

Iona

P&O Cruises

Southampton

-

Stavanger

-

Olden

-

Hellesylt

-

Geiranger

-

Geirangerfjord

-

Bergen

-

Southampton

Canary Islands & Iberia

Southampton

-

Madeira

-

La Palma, Canary Islands

-

Tenerife

-

Lanzarote

-

Lisbon

-

Southampton

Ventura | 12 nights

12 Oct 20

£

820

View Deal

Canaries, Iberian Peninsula

Ventura

P&O Cruises

Southampton

-

Madeira

-

La Palma, Canary Islands

-

Tenerife

-

Lanzarote

-

Lisbon

-

Southampton

Canary Islands and Portugal

Southampton

-

Madeira

-

La Palma, Canary Islands

-

Gran Canaria

-

Lanzarote

-

Lisbon

-

Southampton

Ventura | 12 nights

23 Apr 19

£

824

View Deal

Canaries, Iberian Peninsula

Ventura

P&O Cruises

Southampton

-

Madeira

-

La Palma, Canary Islands

-

Gran Canaria

-

Lanzarote

-

Lisbon

-

Southampton

Norwegian Fjords

Southampton

-

Stavanger

-

Olden

-

Alesund

-

Bergen

-

Southampton

Ventura | 7 nights

26 May 19

£

824

View Deal

Scandinavia

Ventura

P&O Cruises

Southampton

-

Stavanger

-

Olden

-

Alesund

-

Bergen

-

Southampton

Norwegian Fjords

Southampton

-

Stavanger

-

Olden

-

Flam

-

Aurland

-

Sognefjord

-

Bergen

-

Southampton

Ventura | 7 nights

07 Jul 19

£

824

View Deal

Scandinavia

Ventura

P&O Cruises

Southampton

-

Stavanger

-

Olden

-

Flam

-

Aurland

-

Sognefjord

-

Bergen

-

Southampton

Norwegian Fjords

Southampton

-

Stavanger

-

Olden

-

Alesund

-

Bergen

-

Southampton

Ventura | 7 nights

06 Sep 19

£

824

View Deal

Scandinavia

Ventura

P&O Cruises

Southampton

-

Stavanger

-

Olden

-

Alesund

-

Bergen

-

Southampton

Norwegian Fjords

Southampton

-

Stavanger

-

Flam

-

Aurland

-

Sognefjord

-

Alesund

-

Bergen

-

Southampton

Azura | 7 nights

24 Aug 19

£

824

View Deal

Scandinavia

Azura

P&O Cruises

Southampton

-

Stavanger

-

Flam

-

Aurland

-

Sognefjord

-

Alesund

-

Bergen

-

Southampton

Canary Islands & Iberia

Southampton

-

Vigo

-

Lisbon

-

Cartagena, Spain

-

Malaga

-

Gibraltar

-

Cadiz

-

Southampton

Azura | 12 nights

04 Oct 20

£

829

View Deal

Iberian Peninsula

Azura

P&O Cruises

Southampton

-

Vigo

-

Lisbon

-

Cartagena, Spain

-

Malaga

-

Gibraltar

-

Cadiz

-

Southampton

Norwegian Fjords

Southampton

-

Stavanger

-

Olden

-

Hellesylt

-

Geiranger

-

Geirangerfjord

-

Bergen

-

Southampton

Iona | 7 nights

30 May 20

No Fly Cruise
Brand New Ship!

£

839

View Deal

Scandinavia

Iona

P&O Cruises

Southampton

-

Stavanger

-

Olden

-

Hellesylt

-

Geiranger

-

Geirangerfjord

-

Bergen

-

Southampton

Norwegian Fjords

Southampton

-

Stavanger

-

Olden

-

Hellesylt

-

Geiranger

-

Geirangerfjord

-

Bergen

-

Southampton

Iona | 7 nights

20 Jun 20

No Fly Cruise
Brand New Ship!

£

839

View Deal

Scandinavia

Iona

P&O Cruises

Southampton

-

Stavanger

-

Olden

-

Hellesylt

-

Geiranger

-

Geirangerfjord

-

Bergen

-

Southampton

Canary Islands & Iberia

Southampton

-

Madeira

-

La Palma, Canary Islands

-

Tenerife

-

Lanzarote

-

Lisbon

-

Southampton

Ventura | 12 nights

20 Apr 20

£

839

View Deal

Canaries, Iberian Peninsula

Ventura

P&O Cruises

Southampton

-

Madeira

-

La Palma, Canary Islands

-

Tenerife

-

Lanzarote

-

Lisbon

-

Southampton

7nts Croatia and Italy Charm

Malta

-

Dubrovnik

-

Hvar

-

Venice

-

Split

-

Malta

Oceana | 7 nights

04 Apr 19

Flights Included
Free Transfers

£

849

View Deal

Europe, Mediterranean

Oceana

P&O Cruises

Malta

-

Dubrovnik

-

Hvar

-

Venice

-

Split

-

Malta

7nts Greece and Albania

Malta

-

Athens (Piraeus)

-

Souda Bay

-

Katakolon

-

Sarande

-

Malta

Oceana | 7 nights

11 Apr 19

Flights Included
Free Transfers

£

849

View Deal

Europe, Mediterranean

Oceana

P&O Cruises

Malta

-

Athens (Piraeus)

-

Souda Bay

-

Katakolon

-

Sarande

-

Malta

Caribbean Transatlantic

Bridgetown

-

St. Lucia

-

St. Kitts

-

Antigua, Leeward Islands

-

Ponta Delgada, Azores

-

Southampton

Britannia | 13 nights

16 Mar 19

Flights Included
Free Transfers

£

849

View Deal

Caribbean, Transatlantic

Britannia

P&O Cruises

Bridgetown

-

St. Lucia

-

St. Kitts

-

Antigua, Leeward Islands

-

Ponta Delgada, Azores

-

Southampton

Mediterranean

Southampton

-

Cadiz

-

Barcelona

-

Cannes

-

Florence/Pisa

-

Cartagena, Spain

-

Gibraltar

-

Southampton

Britannia | 13 nights

26 Sep 20

£

868

View Deal

Europe, Mediterranean

Britannia

P&O Cruises

Southampton

-

Cadiz

-

Barcelona

-

Cannes

-

Florence/Pisa

-

Cartagena, Spain

-

Gibraltar

-

Southampton

Canary Islands & Iberia

Southampton

-

La Coruna

-

Oporto

-

Cadiz

-

Gibraltar

-

Valencia

-

Cartagena, Spain

-

Lisbon

-

Southampton

Azura | 14 nights

03 Apr 20

£

868

View Deal

Canaries, Iberian Peninsula

Azura

P&O Cruises

Southampton

-

La Coruna

-

Oporto

-

Cadiz

-

Gibraltar

-

Valencia

-

Cartagena, Spain

-

Lisbon

-

Southampton

7nts Greece and Albania

Malta

-

Athens (Piraeus)

-

Heraklion

-

Katakolon

-

Sarande

-

Malta

Oceana | 7 nights

03 Oct 19

Flights Included
Free Transfers

£

869

View Deal

Europe, Mediterranean

Oceana

P&O Cruises

Malta

-

Athens (Piraeus)

-

Heraklion

-

Katakolon

-

Sarande

-

Malta

7nt Italy & Corsica

Malta

-

Naples

-

Rome (Civitavecchia)

-

Ajaccio

-

Olbia/Sardinia

-

Malta

Oceana | 7 nights

13 Jun 19

Flights Included
Includes Transfers

£

869

View Deal

Europe, Mediterranean

Oceana

P&O Cruises

Malta

-

Naples

-

Rome (Civitavecchia)

-

Ajaccio

-

Olbia/Sardinia

-

Malta

7nt Greece & Albania

Malta

-

Athens (Piraeus)

-

Mykonos

-

Rhodes

-

Heraklion

-

Malta

Oceana | 7 nights

02 May 19

Flights Included
Free Transfers

£

869

View Deal

Europe, Mediterranean

Oceana

P&O Cruises

Malta

-

Athens (Piraeus)

-

Mykonos

-

Rhodes

-

Heraklion

-

Malta

Norwegian Fjords

Southampton

-

Stavanger

-

Flam

-

Aurland

-

Sognefjord

-

Olden

-

Bergen

-

Southampton

Britannia | 7 nights

20 Jul 19

£

873

View Deal

Scandinavia

Britannia

P&O Cruises

Southampton

-

Stavanger

-

Flam

-

Aurland

-

Sognefjord

-

Olden

-

Bergen

-

Southampton

Canary Islands & Iberia

Southampton

-

Madeira

-

La Palma, Canary Islands

-

Tenerife

-

Lanzarote

-

Lisbon

-

Southampton

Ventura | 12 nights

21 Sep 20

£

887

View Deal

Canaries, Iberian Peninsula

Ventura

P&O Cruises

Southampton

-

Madeira

-

La Palma, Canary Islands

-

Tenerife

-

Lanzarote

-

Lisbon

-

Southampton

7nts Greece and Albania

Malta

-

Athens (Piraeus)

-

Heraklion

-

Katakolon

-

Sarande

-

Malta

Oceana | 7 nights

11 Jul 19

Flights Included
Free Transfers

£

899

View Deal

Europe, Mediterranean

Oceana

P&O Cruises

Malta

-

Athens (Piraeus)

-

Heraklion

-

Katakolon

-

Sarande

-

Malta

7nts Italy and France

Malta

-

Rome (Civitavecchia)

-

Florence/Pisa

-

Toulon

-

Ajaccio

-

Malta

Oceana | 7 nights

04 Jul 19

Flights Included
Free Transfers

£

919

View Deal

Europe, Mediterranean

Oceana

P&O Cruises

Malta

-

Rome (Civitavecchia)

-

Florence/Pisa

-

Toulon

-

Ajaccio

-

Malta

Spain, Portugal and Gibraltar

Southampton

-

La Coruna

-

Oporto

-

Gibraltar

-

Valencia

-

Cartagena, Spain

-

Lisbon

-

Southampton

Azura | 13 nights

07 Apr 19

£

921

View Deal

Europe, Iberian Peninsula

Azura

P&O Cruises

Southampton

-

La Coruna

-

Oporto

-

Gibraltar

-

Valencia

-

Cartagena, Spain

-

Lisbon

-

Southampton

7nt Greece & Albania Cruise

Malta

-

Santorini Island

-

Athens (Piraeus)

-

Souda Bay

-

Katakolon

-

Malta

Oceana | 7 nights

30 May 19

Flights Included
Free Transfers

£

929

View Deal

Europe, Mediterranean

Oceana

P&O Cruises

Malta

-

Santorini Island

-

Athens (Piraeus)

-

Souda Bay

-

Katakolon

-

Malta

7nts Croatia & Italy

Malta

-

Zadar, Croatia

-

Venice

-

Sibenik

-

Dubrovnik

-

Malta

Oceana | 7 nights

18 Jul 19

Flights Included
Free Transfers

£

949

View Deal

Europe, Mediterranean

Oceana

P&O Cruises

Malta

-

Zadar, Croatia

-

Venice

-

Sibenik

-

Dubrovnik

-

Malta

7nts Croatia & Italy

Malta

-

Zadar, Croatia

-

Venice

-

Sibenik

-

Dubrovnik

-

Malta

Oceana | 7 nights

10 Oct 19

Flights Included
Free Transfers

£

949

View Deal

Europe, Mediterranean

Oceana

P&O Cruises

Malta

-

Zadar, Croatia

-

Venice

-

Sibenik

-

Dubrovnik

-

Malta

Croatian & Italian Gems & Montenegro

Malta

-

Zadar, Croatia

-

Venice

-

Split

-

Kotor

-

Malta

Oceana | 7 nights

16 May 19

Flights Included
Free Transfers

£

949

View Deal

Europe, Mediterranean

Oceana

P&O Cruises

Malta

-

Zadar, Croatia

-

Venice

-

Split

-

Kotor

-

Malta

Canary Islands & Iberia

Southampton

-

Madeira

-

La Palma, Canary Islands

-

Tenerife

-

Gran Canaria

-

Lanzarote

-

Cadiz

-

Lisbon

-

Southampton

Ventura | 14 nights

04 Apr 20

£

965

View Deal

Canaries, Iberian Peninsula

Ventura

P&O Cruises

Southampton

-

Madeira

-

La Palma, Canary Islands

-

Tenerife

-

Gran Canaria

-

Lanzarote

-

Cadiz

-

Lisbon

-

Southampton

Canary Islands & Iberia

Southampton

-

El Ferrol

-

Oporto

-

Gibraltar

-

Valencia

-

Almeria

-

Lisbon

-

Southampton

Aurora | 13 nights

11 Apr 20

£

965

View Deal

Canaries, Iberian Peninsula

Aurora

P&O Cruises

Southampton

-

El Ferrol

-

Oporto

-

Gibraltar

-

Valencia

-

Almeria

-

Lisbon

-

Southampton

7nt Croatia & Italy Cruise

Malta

-

Dubrovnik

-

Hvar

-

Venice

-

Split

-

Malta

Oceana | 7 nights

27 Jun 19

Flights Included
Free Transfers

£

969

View Deal

Europe, Mediterranean

Oceana

P&O Cruises

Malta

-

Dubrovnik

-

Hvar

-

Venice

-

Split

-

Malta

9nt Malta Stay and Greek Isles

Malta

-

Athens (Piraeus)

-

Souda Bay

-

Katakolon

-

Zakinthos

-

Malta

Oceana | 9 nights

31 Mar 20

FREE centrally located handpicked hotel stay
Flights Included

£

979

View Deal

Europe, Mediterranean

Oceana

P&O Cruises

Malta

-

Athens (Piraeus)

-

Souda Bay

-

Katakolon

-

Zakinthos

-

Malta

7nt Corsica, France & Italy

Malta

-

Ajaccio

-

Nice (Villefranche)

-

Florence/Pisa

-

Rome (Civitavecchia)

-

Malta

Oceana | 7 nights

15 Aug 19

Flights Included
Includes Transfers

£

999

View Deal

Europe, Mediterranean

Oceana

P&O Cruises

Malta

-

Ajaccio

-

Nice (Villefranche)

-

Florence/Pisa

-

Rome (Civitavecchia)

-

Malta

2nts Dubai & 10nts Arabian Delights

Dubai

-

Manama

-

Abu Dhabi

-

Khor al Fakkan, UAE

-

Khasab

-

Sir Bani Yas Island (UAE)

-

Dubai

Oceana | 13 nights

27 Feb 19

FREE centrally located handpicked hotel stay
Flights Included

£

999

View Deal

Dubai & Emirates

Oceana

P&O Cruises

Dubai

-

Manama

-

Abu Dhabi

-

Khor al Fakkan, UAE

-

Khasab

-

Sir Bani Yas Island (UAE)

-

Dubai

Canary Islands & Iberia

Southampton

-

Madeira

-

La Palma, Canary Islands

-

Tenerife

-

Lanzarote

-

Lisbon

-

Southampton

Ventura | 12 nights

08 Jun 20

£

1003

View Deal

Canaries, Iberian Peninsula

Ventura

P&O Cruises

Southampton

-

Madeira

-

La Palma, Canary Islands

-

Tenerife

-

Lanzarote

-

Lisbon

-

Southampton

Spain and Italy

Southampton

-

Cadiz

-

Barcelona

-

Florence/Pisa

-

Rome (Civitavecchia)

-

Cartagena, Spain

-

Gibraltar

-

Southampton

Britannia | 14 nights

04 May 19

£

1018

View Deal

Europe, Mediterranean

Britannia

P&O Cruises

Southampton

-

Cadiz

-

Barcelona

-

Florence/Pisa

-

Rome (Civitavecchia)

-

Cartagena, Spain

-

Gibraltar

-

Southampton

Spain, Monaco and Italy

Southampton

-

Cadiz

-

Barcelona

-

Nice (Villefranche)

-

Rome (Civitavecchia)

-

Cartagena, Spain

-

Gibraltar

-

Southampton

Azura | 14 nights

18 May 19

£

1018

View Deal

Europe, Mediterranean

Azura

P&O Cruises

Southampton

-

Cadiz

-

Barcelona

-

Nice (Villefranche)

-

Rome (Civitavecchia)

-

Cartagena, Spain

-

Gibraltar

-

Southampton

Canary Islands, Madeira and Spain

Southampton

-

Madeira

-

La Palma, Canary Islands

-

Tenerife

-

Lanzarote

-

La Coruna

-

Southampton

Ventura | 12 nights

12 May 19

£

1018

View Deal

Canaries

Ventura

P&O Cruises

Southampton

-

Madeira

-

La Palma, Canary Islands

-

Tenerife

-

Lanzarote

-

La Coruna

-

Southampton

Norwegian Fjords

Southampton

-

Haugesund

-

Skjolden

-

Flam

-

Aurland

-

Sognefjord

-

Hellesylt

-

Geiranger

-

Geirangerfjord

-

Andalsnes

-

Olden

-

Bergen

-

Southampton

Arcadia | 12 nights

05 May 19

£

1018

View Deal

Scandinavia

Arcadia

P&O Cruises

Southampton

-

Haugesund

-

Skjolden

-

Flam

-

Aurland

-

Sognefjord

-

Hellesylt

-

Geiranger

-

Geirangerfjord

-

Andalsnes

-

Olden

-

Bergen

-

Southampton

7nts France and Italy

Malta

-

Cannes

-

Florence/Pisa

-

Olbia/Sardinia

-

Naples

-

Malta

Oceana | 7 nights

25 Jul 19

Flights Included
Free Transfers

£

1049

View Deal

Europe, Mediterranean

Oceana

P&O Cruises

Malta

-

Cannes

-

Florence/Pisa

-

Olbia/Sardinia

-

Naples

-

Malta

7nts Italy and France

Malta

-

Rome (Civitavecchia)

-

Florence/Pisa

-

Cannes

-

Ajaccio

-

Malta

Oceana | 7 nights

05 Sep 19

Flights Included
Free Transfers

£

1049

View Deal

Europe, Mediterranean

Oceana

P&O Cruises

Malta

-

Rome (Civitavecchia)

-

Florence/Pisa

-

Cannes

-

Ajaccio

-

Malta

Canary Islands & Iberia

Southampton

-

Madeira

-

La Palma, Canary Islands

-

Tenerife

-

Lanzarote

-

Lisbon

-

Southampton

Ventura | 12 nights

20 Jul 20

£

1061

View Deal

Canaries, Iberian Peninsula

Ventura

P&O Cruises

Southampton

-

Madeira

-

La Palma, Canary Islands

-

Tenerife

-

Lanzarote

-

Lisbon

-

Southampton

Mediterranean

Southampton

-

Cadiz

-

Barcelona

-

Cannes

-

Florence/Pisa

-

Rome (Civitavecchia)

-

Cartagena, Spain

-

Gibraltar

-

Southampton

Britannia | 14 nights

20 Jun 20

£

1061

View Deal

Europe, Mediterranean

Britannia

P&O Cruises

Southampton

-

Cadiz

-

Barcelona

-

Cannes

-

Florence/Pisa

-

Rome (Civitavecchia)

-

Cartagena, Spain

-

Gibraltar

-

Southampton

Canary Islands, Madeira and Spain

Southampton

-

Madeira

-

La Palma, Canary Islands

-

Tenerife

-

Lanzarote

-

La Coruna

-

Southampton

Aurora | 12 nights

20 Aug 19

£

1067

View Deal

Canaries

Aurora

P&O Cruises

Southampton

-

Madeira

-

La Palma, Canary Islands

-

Tenerife

-

Lanzarote

-

La Coruna

-

Southampton

Spain, Portugal and Gibraltar

Southampton

-

Vigo

-

Lisbon

-

Cartagena, Spain

-

Malaga

-

Gibraltar

-

La Coruna

-

Southampton

Ventura | 12 nights

24 Sep 19

£

1067

View Deal

Europe, Mediterranean

Ventura

P&O Cruises

Southampton

-

Vigo

-

Lisbon

-

Cartagena, Spain

-

Malaga

-

Gibraltar

-

La Coruna

-

Southampton

Ireland, Iceland and Faroe Islands

Southampton

-

Killybegs

-

Reykjavik

-

Isafjordur

-

Akureyri

-

Thorshaven

-

Dublin

-

Cobh

-

Southampton

Oriana | 14 nights

05 Jul 19

£

1067

View Deal

Europe, Polar Regions

Oriana

P&O Cruises

Southampton

-

Killybegs

-

Reykjavik

-

Isafjordur

-

Akureyri

-

Thorshaven

-

Dublin

-

Cobh

-

Southampton

7nts Croatia and Italy Charm

Malta

-

Dubrovnik

-

Hvar

-

Venice

-

Split

-

Malta

Oceana | 7 nights

19 Sep 19

Flights Included
Free Transfers

£

1069

View Deal

Europe, Mediterranean

Oceana

P&O Cruises

Malta

-

Dubrovnik

-

Hvar

-

Venice

-

Split

-

Malta

Canary Islands, Madeira and Spain

Southampton

-

Madeira

-

La Palma, Canary Islands

-

Gran Canaria

-

Lanzarote

-

La Coruna

-

Southampton

Aurora | 12 nights

21 Jul 19

£

1077

View Deal

Canaries

Aurora

P&O Cruises

Southampton

-

Madeira

-

La Palma, Canary Islands

-

Gran Canaria

-

Lanzarote

-

La Coruna

-

Southampton

British Isles

Southampton

-

Cobh

-

Stornoway (Stornoway) - UK

-

Kirkwall, Orkney Islands

-

Invergordon

-

Greenock (Glasgow)

-

Dublin

-

St. Peter Port, Guernsey

-

Southampton

Arcadia | 12 nights

09 Aug 20

£

1090

View Deal

United Kingdom

Arcadia

P&O Cruises

Southampton

-

Cobh

-

Stornoway (Stornoway) - UK

-

Kirkwall, Orkney Islands

-

Invergordon

-

Greenock (Glasgow)

-

Dublin

-

St. Peter Port, Guernsey

-

Southampton

Canary Islands and Portugal

Southampton

-

Madeira

-

La Palma, Canary Islands

-

Tenerife

-

Gran Canaria

-

Lanzarote

-

Lisbon

-

Southampton

Britannia | 13 nights

07 Apr 19

£

1099

View Deal

Canaries

Britannia

P&O Cruises

Southampton

-

Madeira

-

La Palma, Canary Islands

-

Tenerife

-

Gran Canaria

-

Lanzarote

-

Lisbon

-

Southampton

Canary Islands & Iberia

Southampton

-

Madeira

-

La Palma, Canary Islands

-

Tenerife

-

Lanzarote

-

Lisbon

-

Southampton

Ventura | 12 nights

10 Aug 20

£

1109

View Deal

Canaries, Iberian Peninsula

Ventura

P&O Cruises

Southampton

-

Madeira

-

La Palma, Canary Islands

-

Tenerife

-

Lanzarote

-

Lisbon

-

Southampton

Canary Islands & Iberia

Southampton

-

Madeira

-

La Palma, Canary Islands

-

Tenerife

-

Fuerteventura

-

Lanzarote

-

Cadiz

-

Lisbon

-

Southampton

Arcadia | 14 nights

12 Apr 20

£

1109

View Deal

Canaries, Iberian Peninsula

Arcadia

P&O Cruises

Southampton

-

Madeira

-

La Palma, Canary Islands

-

Tenerife

-

Fuerteventura

-

Lanzarote

-

Cadiz

-

Lisbon

-

Southampton

7nts Greece and Albania

Malta

-

Athens (Piraeus)

-

Souda Bay

-

Katakolon

-

Sarande

-

Malta

Oceana | 7 nights

12 Sep 19

Flights Included
Free Transfers

£

1129

View Deal

Europe, Mediterranean

Oceana

P&O Cruises

Malta

-

Athens (Piraeus)

-

Souda Bay

-

Katakolon

-

Sarande

-

Malta

Norway & Iceland

Southampton

-

Andalsnes

-

Tromso

-

Narvik

-

Stavanger

-

Southampton

Arcadia | 12 nights

06 Oct 20

£

1138

View Deal

Scandinavia

Arcadia

P&O Cruises

Southampton

-

Andalsnes

-

Tromso

-

Narvik

-

Stavanger

-

Southampton

Faroe Islands, Iceland and Ireland

Southampton

-

Thorshaven

-

Akureyri

-

Isafjordur

-

Reykjavik

-

Greenock (Glasgow)

-

Belfast

-

Southampton

Ventura | 14 nights

23 Jun 19

£

1144

View Deal

United Kingdom, Polar Regions

Ventura

P&O Cruises

Southampton

-

Thorshaven

-

Akureyri

-

Isafjordur

-

Reykjavik

-

Greenock (Glasgow)

-

Belfast

-

Southampton

Baltic

Southampton

-

Kristiansund

-

Copenhagen

-

St Petersburg, Russia

-

Tallinn

-

Riga

-

Warnemunde

-

Southampton

Aurora | 14 nights

23 Jun 20

£

1158

View Deal

Baltic

Aurora

P&O Cruises

Southampton

-

Kristiansund

-

Copenhagen

-

St Petersburg, Russia

-

Tallinn

-

Riga

-

Warnemunde

-

Southampton

Mediterranean

Southampton

-

Cadiz

-

Barcelona

-

Cannes

-

Florence/Pisa

-

Rome (Civitavecchia)

-

Cartagena, Spain

-

Gibraltar

-

Southampton

Britannia | 14 nights

04 Jul 20

£

1158

View Deal

Europe, Mediterranean

Britannia

P&O Cruises

Southampton

-

Cadiz

-

Barcelona

-

Cannes

-

Florence/Pisa

-

Rome (Civitavecchia)

-

Cartagena, Spain

-

Gibraltar

-

Southampton

Norway & Iceland

Southampton

-

Stavanger

-

Olden

-

Lofoten Islands

-

Tromso

-

Trondheim

-

Andalsnes

-

Bergen

-

Southampton

Aurora | 12 nights

07 Jul 20

£

1158

View Deal

Scandinavia

Aurora

P&O Cruises

Southampton

-

Stavanger

-

Olden

-

Lofoten Islands

-

Tromso

-

Trondheim

-

Andalsnes

-

Bergen

-

Southampton

Mediterranean

Southampton

-

Cadiz

-

Barcelona

-

Cannes

-

Florence/Pisa

-

Rome (Civitavecchia)

-

Cartagena, Spain

-

Gibraltar

-

Southampton

Britannia | 14 nights

12 Sep 20

£

1158

View Deal

Europe, Mediterranean

Britannia

P&O Cruises

Southampton

-

Cadiz

-

Barcelona

-

Cannes

-

Florence/Pisa

-

Rome (Civitavecchia)

-

Cartagena, Spain

-

Gibraltar

-

Southampton

Mediterranean

Southampton

-

Cadiz

-

Barcelona

-

Monte Carlo

-

Rome (Civitavecchia)

-

Naples

-

Cagliari

-

Gibraltar

-

Southampton

Azura | 14 nights

20 Sep 20

£

1158

View Deal

Europe, Mediterranean

Azura

P&O Cruises

Southampton

-

Cadiz

-

Barcelona

-

Monte Carlo

-

Rome (Civitavecchia)

-

Naples

-

Cagliari

-

Gibraltar

-

Southampton

Canary Islands, Madeira and Spain

Southampton

-

Vigo

-

Madeira

-

La Palma, Canary Islands

-

Tenerife

-

Lisbon

-

Southampton

Ventura | 11 nights

13 Sep 19

£

1164

View Deal

Canaries

Ventura

P&O Cruises

Southampton

-

Vigo

-

Madeira

-

La Palma, Canary Islands

-

Tenerife

-

Lisbon

-

Southampton

Mediterranean

Southampton

-

Cadiz

-

Barcelona

-

Cannes

-

Florence/Pisa

-

Rome (Civitavecchia)

-

Cartagena, Spain

-

Gibraltar

-

Southampton

Britannia | 14 nights

06 Jun 20

£

1206

View Deal

Europe, Mediterranean, Iberian Peninsula

Britannia

P&O Cruises

Southampton

-

Cadiz

-

Barcelona

-

Cannes

-

Florence/Pisa

-

Rome (Civitavecchia)

-

Cartagena, Spain

-

Gibraltar

-

Southampton

Baltic

Southampton

-

Warnemunde

-

Helsinki

-

St Petersburg, Russia

-

Tallinn

-

Stockholm

-

Copenhagen

-

Southampton

Azura | 14 nights

12 Jul 20

£

1206

View Deal

Baltic

Azura

P&O Cruises

Southampton

-

Warnemunde

-

Helsinki

-

St Petersburg, Russia

-

Tallinn

-

Stockholm

-

Copenhagen

-

Southampton

Canary Islands, Madeira and Spain

Southampton

-

Madeira

-

La Palma, Canary Islands

-

Tenerife

-

Lanzarote

-

La Coruna

-

Southampton

Ventura | 12 nights

04 Aug 19

£

1212

View Deal

Canaries

Ventura

P&O Cruises

Southampton

-

Madeira

-

La Palma, Canary Islands

-

Tenerife

-

Lanzarote

-

La Coruna

-

Southampton

Spain and Italy

Southampton

-

Cadiz

-

Barcelona

-

Florence/Pisa

-

Rome (Civitavecchia)

-

Cartagena, Spain

-

Gibraltar

-

Southampton

Azura | 14 nights

29 Jun 19

£

1212

View Deal

Europe, Mediterranean

Azura

P&O Cruises

Southampton

-

Cadiz

-

Barcelona

-

Florence/Pisa

-

Rome (Civitavecchia)

-

Cartagena, Spain

-

Gibraltar

-

Southampton

13nts Arabian Gulf

Dubai

-

Abu Dhabi

-

Muscat

-

Salalah

-

Malta

Oceana | 13 nights

22 Mar 19

Flights Included
Free Transfers

£

1229

View Deal

Mediterranean, Dubai & Emirates

Oceana

P&O Cruises

Dubai

-

Abu Dhabi

-

Muscat

-

Salalah

-

Malta

Norwegian Fjords

Southampton

-

Stavanger

-

Eidfjord

-

Flam

-

Aurland

-

Sognefjord

-

Hellesylt

-

Geiranger

-

Geirangerfjord

-

Andalsnes

-

Olden

-

Haugesund

-

Southampton

Aurora | 12 nights

09 Jul 19

£

1241

View Deal

Scandinavia

Aurora

P&O Cruises

Southampton

-

Stavanger

-

Eidfjord

-

Flam

-

Aurland

-

Sognefjord

-

Hellesylt

-

Geiranger

-

Geirangerfjord

-

Andalsnes

-

Olden

-

Haugesund

-

Southampton

Baltic

Southampton

-

Warnemunde

-

Helsinki

-

St Petersburg, Russia

-

Tallinn

-

Stockholm

-

Copenhagen

-

Southampton

Azura | 14 nights

14 Jun 20

£

1254

View Deal

Baltic

Azura

P&O Cruises

Southampton

-

Warnemunde

-

Helsinki

-

St Petersburg, Russia

-

Tallinn

-

Stockholm

-

Copenhagen

-

Southampton

Mediterranean

Southampton

-

Cadiz

-

Malaga

-

Ajaccio

-

Cannes

-

Barcelona

-

Palma

-

Gibraltar

-

Southampton

Britannia | 14 nights

01 Aug 20

£

1254

View Deal

Europe, Mediterranean

Britannia

P&O Cruises

Southampton

-

Cadiz

-

Malaga

-

Ajaccio

-

Cannes

-

Barcelona

-

Palma

-

Gibraltar

-

Southampton

Spain, France and Italy

Southampton

-

Vigo

-

Barcelona

-

Cannes

-

La Spezia

-

Palma

-

Gibraltar

-

Southampton

Aurora | 14 nights

02 Aug 19

£

1261

View Deal

Europe, Mediterranean

Aurora

P&O Cruises

Southampton

-

Vigo

-

Barcelona

-

Cannes

-

La Spezia

-

Palma

-

Gibraltar

-

Southampton

Spain, France and Monaco

Southampton

-

Cadiz

-

Barcelona

-

Marseille

-

Monte Carlo

-

Ajaccio

-

Cartagena, Spain

-

Gibraltar

-

Southampton

Ventura | 14 nights

02 Jun 19

£

1261

View Deal

Europe, Mediterranean, Iberian Peninsula

Ventura

P&O Cruises

Southampton

-

Cadiz

-

Barcelona

-

Marseille

-

Monte Carlo

-

Ajaccio

-

Cartagena, Spain

-

Gibraltar

-

Southampton

Scotland, Ireland and Guernsey

Southampton

-

Killybegs

-

Greenock (Glasgow)

-

Thorshaven

-

Lerwick, Shetland Islands

-

Kirkwall, Orkney Islands

-

Dublin

-

Cobh

-

St. Peter Port, Guernsey

-

Southampton

Oriana | 13 nights

15 Jun 19

£

1261

View Deal

United Kingdom

Oriana

P&O Cruises

Southampton

-

Killybegs

-

Greenock (Glasgow)

-

Thorshaven

-

Lerwick, Shetland Islands

-

Kirkwall, Orkney Islands

-

Dublin

-

Cobh

-

St. Peter Port, Guernsey

-

Southampton

Scandinavia and Russia

Southampton

-

Warnemunde

-

Helsinki

-

St Petersburg, Russia

-

Tallinn

-

Stockholm

-

Copenhagen

-

Southampton

Azura | 14 nights

08 Jun 19

£

1273

View Deal

Scandinavia, Baltic, Russia

Azura

P&O Cruises

Southampton

-

Warnemunde

-

Helsinki

-

St Petersburg, Russia

-

Tallinn

-

Stockholm

-

Copenhagen

-

Southampton

14nt Greece, Malta and Italy

Malta

-

Athens (Piraeus)

-

Souda Bay

-

Katakolon

-

Sarande

-

Malta

-

Naples

-

Rome (Civitavecchia)

-

Ajaccio

-

Olbia/Sardinia

-

Malta

Oceana | 14 nights

11 Apr 19

Flights Included
Free Transfers

£

1279

View Deal

Europe, Mediterranean

Oceana

P&O Cruises

Malta

-

Athens (Piraeus)

-

Souda Bay

-

Katakolon

-

Sarande

-

Malta

-

Naples

-

Rome (Civitavecchia)

-

Ajaccio

-

Olbia/Sardinia

-

Malta

Mediterranean

Southampton

-

Cadiz

-

Malaga

-

Ajaccio

-

Cannes

-

Barcelona

-

Palma

-

Gibraltar

-

Southampton

Britannia | 14 nights

15 Aug 20

£

1283

View Deal

Europe, Mediterranean

Britannia

P&O Cruises

Southampton

-

Cadiz

-

Malaga

-

Ajaccio

-

Cannes

-

Barcelona

-

Palma

-

Gibraltar

-

Southampton

Norwegian Fjords

Southampton

-

Haugesund

-

Skjolden

-

Sognefjord

-

Alesund

-

Trondheim

-

Hellesylt

-

Geiranger

-

Geirangerfjord

-

Olden

-

Bergen

-

Southampton

Arcadia | 12 nights

09 Jun 19

£

1290

View Deal

Scandinavia

Arcadia

P&O Cruises

Southampton

-

Haugesund

-

Skjolden

-

Sognefjord

-

Alesund

-

Trondheim

-

Hellesylt

-

Geiranger

-

Geirangerfjord

-

Olden

-

Bergen

-

Southampton

Spain, Monaco and Italy

Southampton

-

Cadiz

-

Barcelona

-

Monte Carlo

-

Florence/Pisa

-

Cartagena, Spain

-

Gibraltar

-

Southampton

Britannia | 14 nights

17 Aug 19

£

1298

View Deal

Europe, Mediterranean

Britannia

P&O Cruises

Southampton

-

Cadiz

-

Barcelona

-

Monte Carlo

-

Florence/Pisa

-

Cartagena, Spain

-

Gibraltar

-

Southampton

Dubai to Malta

Dubai

-

Abu Dhabi

-

Muscat

-

Salalah

-

Malta

Oceana | 18 nights

19 Mar 19

FREE centrally located handpicked hotel stay
Flights Included

£

1299

View Deal

Mediterranean, Dubai & Emirates

Oceana

P&O Cruises

Dubai

-

Abu Dhabi

-

Muscat

-

Salalah

-

Malta

Canary Islands, Spain and Portugal

Southampton

-

Madeira

-

La Palma, Canary Islands

-

Tenerife

-

Gran Canaria

-

Lanzarote

-

Cadiz

-

Lisbon

-

Southampton

Britannia | 14 nights

23 Sep 19

£

1302

View Deal

Canaries

Britannia

P&O Cruises

Southampton

-

Madeira

-

La Palma, Canary Islands

-

Tenerife

-

Gran Canaria

-

Lanzarote

-

Cadiz

-

Lisbon

-

Southampton

Norway & Iceland

Southampton

-

Skjolden

-

Sognefjord

-

Alesund

-

Akureyri

-

Isafjordur

-

Reykjavik

-

Dublin

-

Southampton

Aurora | 14 nights

16 Aug 20

£

1302

View Deal

Scandinavia, Polar Regions

Aurora

P&O Cruises

Southampton

-

Skjolden

-

Sognefjord

-

Alesund

-

Akureyri

-

Isafjordur

-

Reykjavik

-

Dublin

-

Southampton

Portugal, Canary Islands and Azores

Southampton

-

Lisbon

-

Lanzarote

-

Gran Canaria

-

La Palma, Canary Islands

-

Madeira

-

Ponta Delgada, Azores

-

Praia di Vitoria, Azores

-

Southampton

Aurora | 16 nights

08 Apr 19

£

1309

View Deal

Canaries

Aurora

P&O Cruises

Southampton

-

Lisbon

-

Lanzarote

-

Gran Canaria

-

La Palma, Canary Islands

-

Madeira

-

Ponta Delgada, Azores

-

Praia di Vitoria, Azores

-

Southampton

14nt Eastern Caribbean

Bridgetown

-

Curacao

-

Oranjestad, Aruba

-

St Vincent, Grenadines

-

Grenada, Windward Islands,Grenadines

-

St. Lucia

-

St Maarten, French Antilles

-

St. Kitts

-

Antigua, Leeward Islands

-

Bridgetown

Britannia | 14 nights

01 Mar 19

Flights Included
Free Transfers

£

1329

View Deal

Caribbean

Britannia

P&O Cruises

Bridgetown

-

Curacao

-

Oranjestad, Aruba

-

St Vincent, Grenadines

-

Grenada, Windward Islands,Grenadines

-

St. Lucia

-

St Maarten, French Antilles

-

St. Kitts

-

Antigua, Leeward Islands

-

Bridgetown

Mediterranean

Southampton

-

Cadiz

-

Malaga

-

Ajaccio

-

Cannes

-

Barcelona

-

Palma

-

Gibraltar

-

Southampton

Britannia | 14 nights

18 Jul 20

£

1331

View Deal

Europe, Mediterranean

Britannia

P&O Cruises

Southampton

-

Cadiz

-

Malaga

-

Ajaccio

-

Cannes

-

Barcelona

-

Palma

-

Gibraltar

-

Southampton

Spain, France and Monaco

Southampton

-

Cadiz

-

Barcelona

-

Marseille

-

Monte Carlo

-

Ajaccio

-

Cartagena, Spain

-

Gibraltar

-

Southampton

Azura | 14 nights

21 Sep 19

£

1352

View Deal

Europe, Mediterranean

Azura

P&O Cruises

Southampton

-

Cadiz

-

Barcelona

-

Marseille

-

Monte Carlo

-

Ajaccio

-

Cartagena, Spain

-

Gibraltar

-

Southampton

Spain and Italy

Southampton

-

Cadiz

-

Barcelona

-

Florence/Pisa

-

Rome (Civitavecchia)

-

Cartagena, Spain

-

Gibraltar

-

Southampton

Azura | 14 nights

10 Aug 19

£

1358

View Deal

Europe, Mediterranean

Azura

P&O Cruises

Southampton

-

Cadiz

-

Barcelona

-

Florence/Pisa

-

Rome (Civitavecchia)

-

Cartagena, Spain

-

Gibraltar

-

Southampton

Spain, Monaco and Italy

Southampton

-

Cadiz

-

Barcelona

-

Monte Carlo

-

Rome (Civitavecchia)

-

Cartagena, Colombia

-

Gibraltar

-

Southampton

Azura | 14 nights

20 Jul 19

£

1358

View Deal

Europe, Mediterranean

Azura

P&O Cruises

Southampton

-

Cadiz

-

Barcelona

-

Monte Carlo

-

Rome (Civitavecchia)

-

Cartagena, Colombia

-

Gibraltar

-

Southampton

14nts Italy and Croatia

Malta

-

Naples

-

Rome (Civitavecchia)

-

Ajaccio

-

Olbia/Sardinia

-

Malta

-

Dubrovnik

-

Sibenik

-

Venice

-

Zadar, Croatia

-

Malta

Oceana | 14 nights

18 Apr 19

Flights Included
Free Transfers

£

1379

View Deal

Europe, Mediterranean

Oceana

P&O Cruises

Malta

-

Naples

-

Rome (Civitavecchia)

-

Ajaccio

-

Olbia/Sardinia

-

Malta

-

Dubrovnik

-

Sibenik

-

Venice

-

Zadar, Croatia

-

Malta

Spain and Italy

Southampton

-

Cadiz

-

Barcelona

-

Florence/Pisa

-

Rome (Civitavecchia)

-

Cartagena, Spain

-

Gibraltar

-

Southampton

Britannia | 14 nights

07 Sep 19

£

1387

View Deal

Europe, Mediterranean

Britannia

P&O Cruises

Southampton

-

Cadiz

-

Barcelona

-

Florence/Pisa

-

Rome (Civitavecchia)

-

Cartagena, Spain

-

Gibraltar

-

Southampton

Baltic

Southampton

-

Warnemunde

-

Helsinki

-

St Petersburg, Russia

-

Tallinn

-

Stockholm

-

Copenhagen

-

Southampton

Azura | 14 nights

09 Aug 20

£

1399

View Deal

Baltic

Azura

P&O Cruises

Southampton

-

Warnemunde

-

Helsinki

-

St Petersburg, Russia

-

Tallinn

-

Stockholm

-

Copenhagen

-

Southampton

Mediterranean

Southampton

-

Cadiz

-

Valencia

-

Calvi

-

La Spezia

-

Rome (Civitavecchia)

-

Olbia/Sardinia

-

Ibiza

-

Gibraltar

-

Lisbon

-

Southampton

Aurora | 18 nights

12 Oct 20

£

1399

View Deal

Europe, Mediterranean, Iberian Peninsula

Aurora

P&O Cruises

Southampton

-

Cadiz

-

Valencia

-

Calvi

-

La Spezia

-

Rome (Civitavecchia)

-

Olbia/Sardinia

-

Ibiza

-

Gibraltar

-

Lisbon

-

Southampton

Spain, Monaco and Italy

Southampton

-

Cadiz

-

Barcelona

-

Monte Carlo

-

Florence/Pisa

-

Cartagena, Spain

-

Gibraltar

-

Southampton

Britannia | 14 nights

15 Jun 19

£

1406

View Deal

Europe, Mediterranean, Iberian Peninsula

Britannia

P&O Cruises

Southampton

-

Cadiz

-

Barcelona

-

Monte Carlo

-

Florence/Pisa

-

Cartagena, Spain

-

Gibraltar

-

Southampton

Spain and Italy

Southampton

-

Cadiz

-

Barcelona

-

Florence/Pisa

-

Rome (Civitavecchia)

-

Cartagena, Spain

-

Gibraltar

-

Southampton

Britannia | 14 nights

27 Jul 19

£

1406

View Deal

Europe, Mediterranean

Britannia

P&O Cruises

Southampton

-

Cadiz

-

Barcelona

-

Florence/Pisa

-

Rome (Civitavecchia)

-

Cartagena, Spain

-

Gibraltar

-

Southampton

Baltic

Southampton

-

Skagen

-

Copenhagen

-

Gdansk

-

Visby, Sweden

-

St Petersburg, Russia

-

Klaipeda

-

Oslo

-

Kristiansund

-

Southampton

Arcadia | 16 nights

21 Aug 20

£

1447

View Deal

Baltic

Arcadia

P&O Cruises

Southampton

-

Skagen

-

Copenhagen

-

Gdansk

-

Visby, Sweden

-

St Petersburg, Russia

-

Klaipeda

-

Oslo

-

Kristiansund

-

Southampton

Spain, Italy and France

Southampton

-

Cadiz

-

Valencia

-

Rome (Civitavecchia)

-

Santa Margherita

-

Marseille

-

Gibraltar

-

Southampton

Arcadia | 14 nights

19 Aug 19

£

1455

View Deal

Europe, Mediterranean

Arcadia

P&O Cruises

Southampton

-

Cadiz

-

Valencia

-

Rome (Civitavecchia)

-

Santa Margherita

-

Marseille

-

Gibraltar

-

Southampton

Baltic

Southampton

-

Warnemunde

-

Helsinki

-

St Petersburg, Russia

-

Tallinn

-

Stockholm

-

Copenhagen

-

Southampton

Azura | 14 nights

06 Sep 20

£

1476

View Deal

Baltic

Azura

P&O Cruises

Southampton

-

Warnemunde

-

Helsinki

-

St Petersburg, Russia

-

Tallinn

-

Stockholm

-

Copenhagen

-

Southampton

14nts Croatia, Malta and Greece

Malta

-

Dubrovnik

-

Hvar

-

Venice

-

Split

-

Malta

-

Athens (Piraeus)

-

Souda Bay

-

Katakolon

-

Sarande

-

Malta

Oceana | 14 nights

04 Apr 19

Flights Included
Free Transfers

£

1479

View Deal

Europe, Mediterranean

Oceana

P&O Cruises

Malta

-

Dubrovnik

-

Hvar

-

Venice

-

Split

-

Malta

-

Athens (Piraeus)

-

Souda Bay

-

Katakolon

-

Sarande

-

Malta

14nt Greece, Italy and Monaco

Malta

-

Athens (Piraeus)

-

Mykonos

-

Rhodes

-

Heraklion

-

Malta

-

Rome (Civitavecchia)

-

Livorno

-

Monte Carlo

-

Ajaccio

-

Malta

Oceana | 14 nights

02 May 19

Flights Included
Includes Transfers

£

1479

View Deal

Europe, Mediterranean

Oceana

P&O Cruises

Malta

-

Athens (Piraeus)

-

Mykonos

-

Rhodes

-

Heraklion

-

Malta

-

Rome (Civitavecchia)

-

Livorno

-

Monte Carlo

-

Ajaccio

-

Malta

14nt Greece, Croatia and Italy

Malta

-

Athens (Piraeus)

-

Souda Bay

-

Katakolon

-

Sarande

-

Malta

-

Dubrovnik

-

Hvar

-

Venice

-

Split

-

Malta

Oceana | 14 nights

12 Sep 19

Flights Included
Free Transfers

£

1499

View Deal

Europe, Mediterranean

Oceana

P&O Cruises

Malta

-

Athens (Piraeus)

-

Souda Bay

-

Katakolon

-

Sarande

-

Malta

-

Dubrovnik

-

Hvar

-

Venice

-

Split

-

Malta

14nt France, Italy and Greece

Malta

-

Ajaccio

-

Nice (Villefranche)

-

Florence/Pisa

-

Rome (Civitavecchia)

-

Malta

-

Athens (Piraeus)

-

Souda Bay

-

Katakolon

-

Sarande

-

Malta

Oceana | 14 nights

23 May 19

Flights Included
Includes Transfers

£

1499

View Deal

Europe, Mediterranean

Oceana

P&O Cruises

Malta

-

Ajaccio

-

Nice (Villefranche)

-

Florence/Pisa

-

Rome (Civitavecchia)

-

Malta

-

Athens (Piraeus)

-

Souda Bay

-

Katakolon

-

Sarande

-

Malta

Baltic

Southampton

-

Oslofjord, Norway

-

Oslo

-

Gdansk

-

Klaipeda

-

Riga

-

St Petersburg, Russia

-

Tallinn

-

Skagen

-

Southampton

Arcadia | 16 nights

12 Jul 20

£

1524

View Deal

Baltic

Arcadia

P&O Cruises

Southampton

-

Oslofjord, Norway

-

Oslo

-

Gdansk

-

Klaipeda

-

Riga

-

St Petersburg, Russia

-

Tallinn

-

Skagen

-

Southampton

14nt Croatia, Italy & Montenegro

Malta

-

Zadar, Croatia

-

Venice

-

Split

-

Kotor

-

Malta

-

Ajaccio

-

Nice (Villefranche)

-

Florence/Pisa

-

Rome (Civitavecchia)

-

Malta

Oceana | 14 nights

16 May 19

Flights Included
Includes Transfers

£

1529

View Deal

Europe, Mediterranean

Oceana

P&O Cruises

Malta

-

Zadar, Croatia

-

Venice

-

Split

-

Kotor

-

Malta

-

Ajaccio

-

Nice (Villefranche)

-

Florence/Pisa

-

Rome (Civitavecchia)

-

Malta

14nt Italy, Monaco and Croatia

Malta

-

Rome (Civitavecchia)

-

Florence/Pisa

-

Monte Carlo

-

Ajaccio

-

Malta

-

Zadar, Croatia

-

Venice

-

Split

-

Kotor

-

Malta

Oceana | 14 nights

09 May 19

Flights Included
Includes Transfers

£

1529

View Deal

Europe, Mediterranean

Oceana

P&O Cruises

Malta

-

Rome (Civitavecchia)

-

Florence/Pisa

-

Monte Carlo

-

Ajaccio

-

Malta

-

Zadar, Croatia

-

Venice

-

Split

-

Kotor

-

Malta

Mediterranean

Southampton

-

Lisbon

-

Alicante

-

Ajaccio

-

Genoa

-

Elba

-

Rome (Civitavecchia)

-

Salerno

-

Palma

-

Valencia

-

Gibraltar

-

Southampton

Arcadia | 19 nights

26 Apr 20

£

1544

View Deal

Europe, Mediterranean

Arcadia

P&O Cruises

Southampton

-

Lisbon

-

Alicante

-

Ajaccio

-

Genoa

-

Elba

-

Rome (Civitavecchia)

-

Salerno

-

Palma

-

Valencia

-

Gibraltar

-

Southampton

Scandinavia and Russia

Southampton

-

Skagen

-

Copenhagen

-

St Petersburg, Russia

-

Helsinki

-

Stockholm

-

Warnemunde

-

Southampton

Arcadia | 14 nights

26 May 19

£

1552

View Deal

Scandinavia, Baltic, Russia

Arcadia

P&O Cruises

Southampton

-

Skagen

-

Copenhagen

-

St Petersburg, Russia

-

Helsinki

-

Stockholm

-

Warnemunde

-

Southampton

Norwegian Fjords, Iceland and Ireland

Southampton

-

Olden

-

Andalsnes

-

Akureyri

-

Isafjordur

-

Reykjavik

-

Dublin

-

Southampton

Arcadia | 14 nights

20 Jul 19

£

1552

View Deal

Scandinavia, Polar Regions

Arcadia

P&O Cruises

Southampton

-

Olden

-

Andalsnes

-

Akureyri

-

Isafjordur

-

Reykjavik

-

Dublin

-

Southampton

14nt Croatia, Italy and France

Malta

-

Dubrovnik

-

Hvar

-

Venice

-

Split

-

Malta

-

Rome (Civitavecchia)

-

Florence/Pisa

-

Toulon

-

Ajaccio

-

Malta

Oceana | 14 nights

27 Jun 19

Flights Included
Includes Transfers

£

1579

View Deal

Europe, Mediterranean

Oceana

P&O Cruises

Malta

-

Dubrovnik

-

Hvar

-

Venice

-

Split

-

Malta

-

Rome (Civitavecchia)

-

Florence/Pisa

-

Toulon

-

Ajaccio

-

Malta

Mediterranean

Southampton

-

El Ferrol

-

Gibraltar

-

Olbia/Sardinia

-

Santa Margherita

-

Rome (Civitavecchia)

-

Salerno

-

Palma

-

Almeria

-

Lisbon

-

Southampton

Aurora | 18 nights

05 Jun 20

£

1592

View Deal

Europe, Mediterranean, Iberian Peninsula

Aurora

P&O Cruises

Southampton

-

El Ferrol

-

Gibraltar

-

Olbia/Sardinia

-

Santa Margherita

-

Rome (Civitavecchia)

-

Salerno

-

Palma

-

Almeria

-

Lisbon

-

Southampton

10nts Arabian Gulf

Dubai

-

Manama

-

Abu Dhabi

-

Muscat

-

Khasab

-

Sir Bani Yas Island (UAE)

-

Dubai

Oceana | 10 nights

12 Mar 19

Flights Included
Free Transfers

£

1599

View Deal

Dubai & Emirates

Oceana

P&O Cruises

Dubai

-

Manama

-

Abu Dhabi

-

Muscat

-

Khasab

-

Sir Bani Yas Island (UAE)

-

Dubai

Dazzling Dubai to Southampton via Suez Canal

Dubai

-

Muscat

-

Limassol

-

Haifa

-

Cadiz

-

Southampton

Arcadia | 22 nights

25 Mar 19

FREE centrally located handpicked hotel stay
Flights Included

£

1599

View Deal

Europe, Mediterranean, Iberian Peninsula, Dubai & Emirates

Arcadia

P&O Cruises

Dubai

-

Muscat

-

Limassol

-

Haifa

-

Cadiz

-

Southampton

Ultimate Arabian Gulf

Dubai

-

Manama

-

Abu Dhabi

-

Khor al Fakkan, UAE

-

Khasab

-

Sir Bani Yas Island (UAE)

-

Dubai

Oceana | 10 nights

02 Mar 19

Flights Included
Free Transfers

£

1619

View Deal

Dubai & Emirates

Oceana

P&O Cruises

Dubai

-

Manama

-

Abu Dhabi

-

Khor al Fakkan, UAE

-

Khasab

-

Sir Bani Yas Island (UAE)

-

Dubai

14nts Croatia, Italy and Greece

Malta

-

Dubrovnik

-

Sibenik

-

Venice

-

Zadar, Croatia

-

Malta

-

Athens (Piraeus)

-

Mykonos

-

Katakolon

-

Sarande

-

Malta

Oceana | 14 nights

25 Apr 19

Flights Included
Free Transfers

£

1629

View Deal

Europe, Mediterranean

Oceana

P&O Cruises

Malta

-

Dubrovnik

-

Sibenik

-

Venice

-

Zadar, Croatia

-

Malta

-

Athens (Piraeus)

-

Mykonos

-

Katakolon

-

Sarande

-

Malta

14nts Italy, Corsica and Greece

Malta

-

Naples

-

Rome (Civitavecchia)

-

Ajaccio

-

Olbia/Sardinia

-

Malta

-

Athens (Piraeus)

-

Heraklion

-

Katakolon

-

Sarande

-

Malta

Oceana | 14 nights

26 Sep 19

Flights Included
Free Transfers

£

1679

View Deal

Europe, Mediterranean

Oceana

P&O Cruises

Malta

-

Naples

-

Rome (Civitavecchia)

-

Ajaccio

-

Olbia/Sardinia

-

Malta

-

Athens (Piraeus)

-

Heraklion

-

Katakolon

-

Sarande

-

Malta

14nt Croatia, Italy and Montenegro

Malta

-

Zadar, Croatia

-

Venice

-

Split

-

Kotor

-

Malta

-

Rome (Civitavecchia)

-

Florence/Pisa

-

Cannes

-

Ajaccio

-

Malta

Oceana | 14 nights

29 Aug 19

Flights Included
Includes Transfers

£

1679

View Deal

Europe, Mediterranean

Oceana

P&O Cruises

Malta

-

Zadar, Croatia

-

Venice

-

Split

-

Kotor

-

Malta

-

Rome (Civitavecchia)

-

Florence/Pisa

-

Cannes

-

Ajaccio

-

Malta

Scandinavia and Russia

Southampton

-

Skagen

-

Helsinki

-

St Petersburg, Russia

-

Tallinn

-

Stockholm

-

Copenhagen

-

Southampton

Britannia | 14 nights

06 Jul 19

£

1697

View Deal

Scandinavia, Baltic, Russia

Britannia

P&O Cruises

Southampton

-

Skagen

-

Helsinki

-

St Petersburg, Russia

-

Tallinn

-

Stockholm

-

Copenhagen

-

Southampton

Scandinavia, Poland and Russia

Southampton

-

Skagen

-

Fredericia

-

Klaipeda

-

Helsinki

-

St Petersburg, Russia

-

Gdansk

-

Oslo

-

Kristiansund

-

Southampton

Arcadia | 16 nights

03 Aug 19

£

1714

View Deal

Scandinavia, Baltic, Russia

Arcadia

P&O Cruises

Southampton

-

Skagen

-

Fredericia

-

Klaipeda

-

Helsinki

-

St Petersburg, Russia

-

Gdansk

-

Oslo

-

Kristiansund

-

Southampton

14nts Italy, France and Greece

Malta

-

Rome (Civitavecchia)

-

Florence/Pisa

-

Cannes

-

Ajaccio

-

Malta

-

Athens (Piraeus)

-

Souda Bay

-

Katakolon

-

Sarande

-

Malta

Oceana | 14 nights

05 Sep 19

Flights Included
Free Transfers

£

1729

View Deal

Europe, Mediterranean

Oceana

P&O Cruises

Malta

-

Rome (Civitavecchia)

-

Florence/Pisa

-

Cannes

-

Ajaccio

-

Malta

-

Athens (Piraeus)

-

Souda Bay

-

Katakolon

-

Sarande

-

Malta

14nts Greece, Croatia and Italy

Malta

-

Athens (Piraeus)

-

Heraklion

-

Katakolon

-

Sarande

-

Malta

-

Zadar, Croatia

-

Venice

-

Sibenik

-

Dubrovnik

-

Malta

Oceana | 14 nights

03 Oct 19

Flights Included
Free Transfers

£

1729

View Deal

Europe, Mediterranean

Oceana

P&O Cruises

Malta

-

Athens (Piraeus)

-

Heraklion

-

Katakolon

-

Sarande

-

Malta

-

Zadar, Croatia

-

Venice

-

Sibenik

-

Dubrovnik

-

Malta

20nt Arabian Gulf, Malta and Croatia

Dubai

-

Abu Dhabi

-

Muscat

-

Salalah

-

Malta

-

Dubrovnik

-

Hvar

-

Venice

-

Split

-

Malta

Oceana | 20 nights

22 Mar 19

Flights Included
Free Transfers

£

1729

View Deal

Mediterranean, Black Sea, Dubai & Emirates

Oceana

P&O Cruises

Dubai

-

Abu Dhabi

-

Muscat

-

Salalah

-

Malta

-

Dubrovnik

-

Hvar

-

Venice

-

Split

-

Malta

Mediterranean

Southampton

-

Malaga

-

Rhodes

-

Heraklion

-

Athens (Piraeus)

-

Gythion

-

Gibraltar

-

Southampton

Arcadia | 19 nights

18 Oct 20

£

1737

View Deal

Europe, Mediterranean

Arcadia

P&O Cruises

Southampton

-

Malaga

-

Rhodes

-

Heraklion

-

Athens (Piraeus)

-

Gythion

-

Gibraltar

-

Southampton

Norway and North Cape

Southampton

-

Thorshaven

-

Lofoten Islands

-

Honningsvaag

-

North Cape

-

Longyearbyen

-

Tempelfjord (Spitzbergen)

-

Tromso

-

Alesund

-

Belfast

-

Southampton

Oriana | 18 nights

22 Jul 19

£

1746

View Deal

Scandinavia, United Kingdom

Oriana

P&O Cruises

Southampton

-

Thorshaven

-

Lofoten Islands

-

Honningsvaag

-

North Cape

-

Longyearbyen

-

Tempelfjord (Spitzbergen)

-

Tromso

-

Alesund

-

Belfast

-

Southampton

14nts Croatia, Italy and Malta

Malta

-

Zadar, Croatia

-

Venice

-

Sibenik

-

Dubrovnik

-

Malta

-

Cannes

-

Florence/Pisa

-

Olbia/Sardinia

-

Naples

-

Malta

Oceana | 14 nights

18 Jul 19

Flights Included
Free Transfers

£

1779

View Deal

Europe, Mediterranean

Oceana

P&O Cruises

Malta

-

Zadar, Croatia

-

Venice

-

Sibenik

-

Dubrovnik

-

Malta

-

Cannes

-

Florence/Pisa

-

Olbia/Sardinia

-

Naples

-

Malta

14nts Arabian Gulf

Dubai

-

Abu Dhabi

-

Muscat

-

Salalah

-

Malta

Oceana | 14 nights

21 Mar 19

Flights Included
Free Transfers

£

1779

View Deal

Mediterranean, Dubai & Emirates

Oceana

P&O Cruises

Dubai

-

Abu Dhabi

-

Muscat

-

Salalah

-

Malta

14nt Italy, Corsica and Greece

Malta

-

Naples

-

Rome (Civitavecchia)

-

Ajaccio

-

Olbia/Sardinia

-

Malta

-

Athens (Piraeus)

-

Souda Bay

-

Katakolon

-

Sarande

-

Malta

Oceana | 14 nights

13 Jun 19

Flights Included
Includes Transfers

£

1779

View Deal

Europe, Mediterranean

Oceana

P&O Cruises

Malta

-

Naples

-

Rome (Civitavecchia)

-

Ajaccio

-

Olbia/Sardinia

-

Malta

-

Athens (Piraeus)

-

Souda Bay

-

Katakolon

-

Sarande

-

Malta

14nts Italy, France and Greece

Malta

-

Rome (Civitavecchia)

-

Florence/Pisa

-

Toulon

-

Ajaccio

-

Malta

-

Athens (Piraeus)

-

Heraklion

-

Katakolon

-

Sarande

-

Malta

Oceana | 14 nights

04 Jul 19

Flights Included
Free Transfers

£

1829

View Deal

Europe, Mediterranean

Oceana

P&O Cruises

Malta

-

Rome (Civitavecchia)

-

Florence/Pisa

-

Toulon

-

Ajaccio

-

Malta

-

Athens (Piraeus)

-

Heraklion

-

Katakolon

-

Sarande

-

Malta

14nts Italy, Malta and Greece

Malta

-

Cannes

-

Florence/Pisa

-

Olbia/Sardinia

-

Naples

-

Malta

-

Athens (Piraeus)

-

Mykonos

-

Katakolon

-

Sarande

-

Malta

Oceana | 14 nights

25 Jul 19

Flights Included
Free Transfers

£

1829

View Deal

Europe, Mediterranean

Oceana

P&O Cruises

Malta

-

Cannes

-

Florence/Pisa

-

Olbia/Sardinia

-

Naples

-

Malta

-

Athens (Piraeus)

-

Mykonos

-

Katakolon

-

Sarande

-

Malta

14nts Greece, Croatia and Italy

Malta

-

Athens (Piraeus)

-

Heraklion

-

Katakolon

-

Sarande

-

Malta

-

Zadar, Croatia

-

Venice

-

Sibenik

-

Dubrovnik

-

Malta

Oceana | 14 nights

11 Jul 19

Flights Included
Free Transfers

£

1829

View Deal

Europe, Mediterranean

Oceana

P&O Cruises

Malta

-

Athens (Piraeus)

-

Heraklion

-

Katakolon

-

Sarande

-

Malta

-

Zadar, Croatia

-

Venice

-

Sibenik

-

Dubrovnik

-

Malta

14nt Greece, Croatia and Italy

Malta

-

Athens (Piraeus)

-

Souda Bay

-

Katakolon

-

Sarande

-

Malta

-

Zadar, Croatia

-

Venice

-

Split

-

Kotor

-

Malta

Oceana | 14 nights

30 May 19

Flights Included
Includes Transfers

£

1829

View Deal

Europe, Mediterranean

Oceana

P&O Cruises

Malta

-

Athens (Piraeus)

-

Souda Bay

-

Katakolon

-

Sarande

-

Malta

-

Zadar, Croatia

-

Venice

-

Split

-

Kotor

-

Malta

14nt Greece, Croatia and Italy

Malta

-

Athens (Piraeus)

-

Souda Bay

-

Katakolon

-

Sarande

-

Malta

-

Dubrovnik

-

Hvar

-

Venice

-

Split

-

Malta

Oceana | 14 nights

20 Jun 19

Flights Included
Includes Transfers

£

1849

View Deal

Europe, Mediterranean

Oceana

P&O Cruises

Malta

-

Athens (Piraeus)

-

Souda Bay

-

Katakolon

-

Sarande

-

Malta

-

Dubrovnik

-

Hvar

-

Venice

-

Split

-

Malta

Spain, Italy and Croatia

Southampton

-

Malaga

-

Venice

-

Split

-

Dubrovnik

-

Cagliari

-

Gibraltar

-

Southampton

Arcadia | 19 nights

24 Jun 19

£

1916

View Deal

Europe, Mediterranean

Arcadia

P&O Cruises

Southampton

-

Malaga

-

Venice

-

Split

-

Dubrovnik

-

Cagliari

-

Gibraltar

-

Southampton

14nt Greece, Croatia and Italy

Malta

-

Athens (Piraeus)

-

Mykonos

-

Rhodes

-

Heraklion

-

Malta

-

Dubrovnik

-

Hvar

-

Venice

-

Split

-

Malta

Oceana | 14 nights

01 Aug 19

Flights Included
Includes Transfers

£

1979

View Deal

Europe, Mediterranean

Oceana

P&O Cruises

Malta

-

Athens (Piraeus)

-

Mykonos

-

Rhodes

-

Heraklion

-

Malta

-

Dubrovnik

-

Hvar

-

Venice

-

Split

-

Malta

2nt Dubai & Arabian Gulf, Malta and Croatia

Dubai

-

Abu Dhabi

-

Muscat

-

Salalah

-

Malta

-

Dubrovnik

-

Hvar

-

Venice

-

Split

-

Malta

Oceana | 23 nights

19 Mar 19

FREE centrally located handpicked hotel stay
Flights Included

£

1999

View Deal

Mediterranean, Transatlantic, Black Sea, Dubai & Emirates

Oceana

P&O Cruises

Dubai

-

Abu Dhabi

-

Muscat

-

Salalah

-

Malta

-

Dubrovnik

-

Hvar

-

Venice

-

Split

-

Malta

14nt Croatia, France and Italy

Malta

-

Dubrovnik

-

Hvar

-

Venice

-

Split

-

Malta

-

Ajaccio

-

Nice (Villefranche)

-

Florence/Pisa

-

Rome (Civitavecchia)

-

Malta

Oceana | 14 nights

08 Aug 19

Flights Included
Includes Transfers

£

1999

View Deal

Europe, Mediterranean

Oceana

P&O Cruises

Malta

-

Dubrovnik

-

Hvar

-

Venice

-

Split

-

Malta

-

Ajaccio

-

Nice (Villefranche)

-

Florence/Pisa

-

Rome (Civitavecchia)

-

Malta

14nts Croatia, Italy and Corsica

Malta

-

Dubrovnik

-

Hvar

-

Venice

-

Split

-

Malta

-

Naples

-

Rome (Civitavecchia)

-

Ajaccio

-

Olbia/Sardinia

-

Malta

Oceana | 14 nights

19 Sep 19

Flights Included
Free Transfers

£

2029

View Deal

Europe, Mediterranean

Oceana

P&O Cruises

Malta

-

Dubrovnik

-

Hvar

-

Venice

-

Split

-

Malta

-

Naples

-

Rome (Civitavecchia)

-

Ajaccio

-

Olbia/Sardinia

-

Malta

Spain, Sicily and Greece

Southampton

-

Malaga

-

Mykonos

-

Athens (Piraeus)

-

Santorini Island

-

Katakolon

-

Gibraltar

-

Southampton

Azura | 19 nights

02 Sep 19

£

2037

View Deal

Europe, Mediterranean

Azura

P&O Cruises

Southampton

-

Malaga

-

Mykonos

-

Athens (Piraeus)

-

Santorini Island

-

Katakolon

-

Gibraltar

-

Southampton

Mediterranean

Southampton

-

Cartagena, Spain

-

Corfu

-

Dubrovnik

-

Split

-

Venice

-

Cagliari

-

Gibraltar

-

Southampton

Arcadia | 19 nights

16 Jun 20

£

2065

View Deal

Europe, Mediterranean

Arcadia

P&O Cruises

Southampton

-

Cartagena, Spain

-

Corfu

-

Dubrovnik

-

Split

-

Venice

-

Cagliari

-

Gibraltar

-

Southampton

Canada

Southampton

-

St John's, Newfoundland

-

Halifax

-

Charlottetown

-

Quebec

-

Saguenay

-

Sept-Iles

-

Gaspe

-

Corner Brook, Newfoundland

-

Sydney, Canada

-

Southampton

Arcadia | 24 nights

16 Sep 19

£

2473

View Deal

North America

Arcadia

P&O Cruises

Southampton

-

St John's, Newfoundland

-

Halifax

-

Charlottetown

-

Quebec

-

Saguenay

-

Sept-Iles

-

Gaspe

-

Corner Brook, Newfoundland

-

Sydney, Canada

-

Southampton

Norway & Iceland

Southampton

-

Kirkwall, Orkney Islands

-

Thorshaven

-

Grundafjordur

-

Reykjavik

-

Isafjordur

-

Akureyri

-

Honningsvaag

-

North Cape

-

Alta

-

Tromso

-

Kristiansund

-

Olden

-

Southampton

Aurora | 21 nights

19 Jul 20

£

2509

View Deal

Scandinavia, Polar Regions

Aurora

P&O Cruises

Southampton

-

Kirkwall, Orkney Islands

-

Thorshaven

-

Grundafjordur

-

Reykjavik

-

Isafjordur

-

Akureyri

-

Honningsvaag

-

North Cape

-

Alta

-

Tromso

-

Kristiansund

-

Olden

-

Southampton

North America & Canada

Southampton

-

St John's, Newfoundland

-

Halifax

-

Charlottetown

-

Quebec

-

Saguenay

-

Sept-Iles

-

Gaspe

-

Corner Brook, Newfoundland

-

Sydney, Canada

-

Southampton

Aurora | 24 nights

18 Sep 20

£

2846

View Deal

North America

Aurora

P&O Cruises

Southampton

-

St John's, Newfoundland

-

Halifax

-

Charlottetown

-

Quebec

-

Saguenay

-

Sept-Iles

-

Gaspe

-

Corner Brook, Newfoundland

-

Sydney, Canada

-

Southampton

USA and Canada

Southampton

-

St John's, Newfoundland

-

Corner Brook, Newfoundland

-

Charlottetown

-

Halifax

-

Boston, USA

-

Newport,UK

-

New York

-

Portland, USA

-

Bar Harbor

-

St John

-

Sydney, Canada

-

Southampton

Aurora | 30 nights

01 Sep 19

£

2910

View Deal

North America

Aurora

P&O Cruises

Southampton

-

St John's, Newfoundland

-

Corner Brook, Newfoundland

-

Charlottetown

-

Halifax

-

Boston, USA

-

Newport,UK

-

New York

-

Portland, USA

-

Bar Harbor

-

St John

-

Sydney, Canada

-

Southampton

North America & Canada

Southampton

-

St John's, Newfoundland

-

Corner Brook, Newfoundland

-

Iles de la Madeleine, Quebec

-

Halifax

-

Boston, USA

-

Newport,UK

-

New York

-

Portland, USA

-

Bar Harbor

-

St John, New Brunswick

-

Sydney, Canada

-

Southampton

Arcadia | 30 nights

06 Sep 20

£

4053

View Deal

North America

Arcadia

P&O Cruises

Southampton

-

St John's, Newfoundland

-

Corner Brook, Newfoundland

-

Iles de la Madeleine, Quebec

-

Halifax

-

Boston, USA

-

Newport,UK

-

New York

-

Portland, USA

-

Bar Harbor

-

St John, New Brunswick

-

Sydney, Canada

-

Southampton
Search for P&O Cruise Deals