FOR A LIMITED TIME, 60% OFF SECOND GUEST
Imagine surrendering your senses to the wild beauty and warmth of the Caribbean Islands. Or discovering the rich history and heady romance of Europe on the stunning Celebrity Infinity, which will be sailing there in winter 2023 for the first time! You could even find yourself sampling the sumptuous delights of Michelin-starred chef Daniel Boulud's first signature restaurant at sea on board Celebrity Beyond whilst sailing off into the sunset.

We have taken up to 60% off second guest fares* if you book your dream holiday today. You'll also receive up to $200 per person* to spend onboard, however you please.
What more do you need to make the dream a reality?
*TERMS & CONDITIONS
Second Guest receives 60% Off
Second Guest and Fourth guest sharing a stateroom receives 60% Off Celebrity Cruise Fare Savings Offer (the "Offer") on selected cruises.
The Offer applies to eligible bookings made between 04 August 2022 and 21 September 2022 (the "Offer Period") on sailings departing 01 August 2022 to 30 April 2024 (the "Sailing Period"), excluding Galapagos sailings and Alaska Cruisetours. The second guest and fourth guest must be sharing the same stateroom as the first and third guests on the reservation within the same stateroom. The 60% discount for the second guest will be based on the fare that the first guest pays, the 60% discount for the fourth guest will be based on the fare that the third guest pays (excluding any add-ons & amenities including, without limitation, gratuities, air fares, hotels, transfers, pre-cruise & onboard purchases – which will not be discounted as part of the Offer). The Offer can be combined with No Perks Rates (Cruise Only), All Included & Retreat pricing options.
Onboard credit offer
In addition to the Offer, eligible bookings will also receive an onboard credit of: $50 per person for 3-5 night sailings, $100 per person for 6-9 night sailings, $200 per person for 10 night or more sailings.
The Guests' onboard account will be credited with the applicable onboard credit.
The onboard credit has no cash value, cannot be used in an onboard casino, is non-transferable, is nonredeemable for cash, and will expire if not used by 10:00pm on the final night of the cruise.
For single occupancy bookings, a reduced single occupancy supplement will be applied to the booking.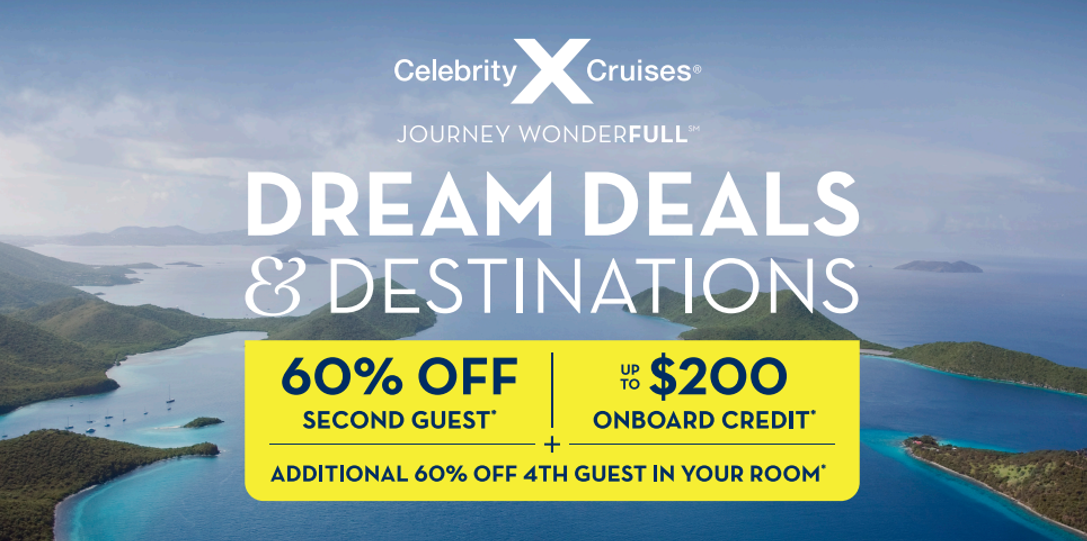 NEW LUXURY
There's no other cruise line quite like Celebrity Cruises - they've mastered contemporary luxury at sea. Combining elegant guest experiences with innovative touches of technology they've created an ambience that's rather unique. The opulent decor, incredible culinary experiences, enchanting entertainment and choice of destinations and land excursions is something to marvel at – it's the ultimate cruise experience. With so much luxury to lose yourself in onboard, you'd be forgiven for thinking this might bring with it those pretentious types – but you'd be wrong. Celebrity Cruises are for those who seek fun, enrichment and incredible experiences that become memories to last a lifetime.
Celebrity Cruises' iconic "X" is the mark of luxury, with its cool, contemporary design and warm spaces; dining experiences where the design of the venues is as important as the cuisine; and the amazing service that only Celebrity can provide, all created to provide an unmatchable experience for holiday-makers' precious time. Celebrity Cruises' 14 ships offer luxury holidays visiting all seven continents. Celebrity also presents immersive cruise tour experiences in Alaska and Canada.
THE CELEBRITY DISTINCTION – There's a reason people trust their precious holiday days to Celebrity Cruises. Actually, there are hundreds of them. Every day, every night, they welcome the world on board. Extraordinary destinations. Culinary Excellence. Intuitive service. Luxurious Accommodations and stunning design. That's the Celebrity way. The Celebrity Distinction.
WHY CHOOSE Celebrity Cruises
From the blog...
We're just checking with our authors to see what the latest is...
Let our cruise experts keep you up to date about the latest cruise industry news, the most luxurious new ships, and the hottest deals.
Visit the blog