DREAM BIG SALE
Start looking forward to your dream holiday with Celebrity Cruises' limited time sale on a huge variety of worldwide cruises, departing up until May 2022.
For 6 days only, Celebrity Cruises is offering 3 perks for 2, a Classic Drinks Package, unlimited Wi-Fi and tips included for everyone in the stateroom when you choose the Sail Plus 2 perk booking option - that's 1 free perk.
Available on AquaClass® right through to Interior staterooms, on all sailings departing after 1 October 2020.
This limited time sale is available on a huge range of worldwide cruises departing up to May 2022. From 14 night Scandinavia and St. Petersburg cruises sailing from Southampton to sun-kissed escapes to the Caribbean, Greek Islands, Turkey and beyond, there's a dream getaway for everyone.
CELEBRITY CRUISES' DREAM BIG SALE MUST END 06 JULY 2020
*T&Cs Apply.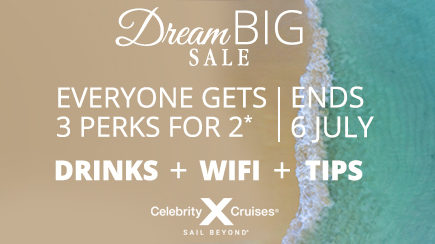 MODERN LUXURY
There's no other cruise line quite like Celebrity Cruises - they've mastered contemporary luxury at sea. Combining elegant guest experiences with innovative touches of technology they've created an ambience that's rather unique. The opulent decor, incredible culinary experiences, enchanting entertainment and choice of destinations and land excursions is something to marvel at – it's the ultimate cruise experience. With so much luxury to lose yourself in onboard, you'd be forgiven for thinking this might bring with it those pretentious types – but you'd be wrong. Celebrity Cruises are for those who seek fun, enrichment and incredible experiences that become memories to last a lifetime.
WHY CHOOSE Celebrity Cruises
From the blog...
We're just checking with our authors to see what the latest is...
Let our cruise experts keep you up to date about the latest cruise industry news, the most luxurious new ships, and the hottest deals.
Visit the blog