Save Up to £600 Per Stateroom & Get a FREE Balcony Upgrade*
FOR A LIMITED TIME ONLY!
We are very happy to announce that Celebrity Cruises have a new overlay to their Summer 2022 European campaign! They are now offering you the chance to save up to £600 per stateroom, plus a FREE balcony upgrade on Celebrity Silhouette. Also you will always get Drinks, WI-FI and Tips included to make the most of your holiday while onboard a Celebrity Cruise!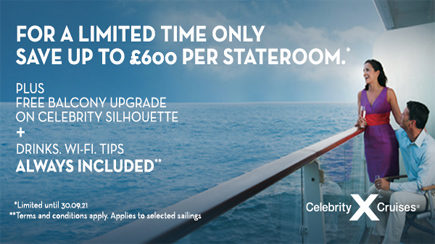 Drinks. Wi-Fi. Tips. Always Included!
Holidays should be effortless from the start. That's why every Celebrity cruise includes drinks, Wi-Fi, and tips – always.* It's that simple.
What will always be included?
Classic Drinks
Choose from an incredible array of cocktails, beers, spirits and liqueurs and wines by the glass.
Surf Wi-Fi
Celebrity know that staying in touch is important so they've included internet access for all guests. Browse the web, check email and use messaging apps.
Tips
Celebrity Cruises' helpful staff go the extra mile so guests can have the holiday of a lifetime. Tips for their crew are included in the cost of the cruise.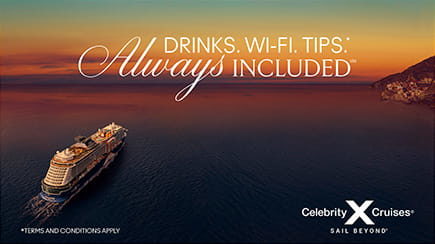 NEW LUXURY
There's no other cruise line quite like Celebrity Cruises - they've mastered contemporary luxury at sea. Combining elegant guest experiences with innovative touches of technology they've created an ambience that's rather unique. The opulent decor, incredible culinary experiences, enchanting entertainment and choice of destinations and land excursions is something to marvel at – it's the ultimate cruise experience. With so much luxury to lose yourself in onboard, you'd be forgiven for thinking this might bring with it those pretentious types – but you'd be wrong. Celebrity Cruises are for those who seek fun, enrichment and incredible experiences that become memories to last a lifetime.
Celebrity Cruises' iconic "X" is the mark of luxury, with its cool, contemporary design and warm spaces; dining experiences where the design of the venues is as important as the cuisine; and the amazing service that only Celebrity can provide, all created to provide an unmatchable experience for holiday-makers' precious time. Celebrity Cruises' 14 ships offer luxury holidays visiting all seven continents. Celebrity also presents immersive cruise tour experiences in Alaska and Canada.
THE CELEBRITY DISTINCTION – There's a reason people trust their precious holiday days to Celebrity Cruises. Actually, there are hundreds of them. Every day, every night, they welcome the world on board. Extraordinary destinations. Culinary Excellence. Intuitive service. Luxurious Accommodations and stunning design. That's the Celebrity way. The Celebrity Distinction.
WHY CHOOSE Celebrity Cruises
From the blog...
We're just checking with our authors to see what the latest is...
Let our cruise experts keep you up to date about the latest cruise industry news, the most luxurious new ships, and the hottest deals.
Visit the blog