Cruising in January is mainly about the Caribbean! With crystal clear waters and white-sand beaches, the Caribbean is the ultimate cruise destination. There are other destinations that you may consider for your January cruise - like the Middle-East, or Australia. We have fantastic cruise offers for January ready to book today!
Take a look at the fantastic Cruise Deals in January we have, and give us a call if you need any further information.
Why Choose a Cruise in January?
January is often judged harshly as a comedown after the festive season. Many people feel down this time of year and January blues can be a real thing and can be caused by a number of different factors. Add in that some people in the Northern Hemisphere also suffer from Seasonal Affective Disorder (SAD) which is caused by a lack of sunlight, and it's no wonder that it's not very often our favourite month of the year.
This can however all be avoided and turned around by a fantastic January cruise. It is after all the time of year for new beginnings and resolutions and a great time to make some positive changes. One of the best things you can do is to plan your January cruise well ahead of time. This way you can save up for it and spend your January somewhere sunny and inspiring, instead of simply going back to the rat race so soon after Christmas.
Whether you want to chase the sun, have an adventure, or even go on a fitness cruise, we've got you covered with some fantastic January cruise deals. If you are looking for a way to bring in the new year with a difference, Cruise Nation's wide range of January cruise deals offer passengers the chance to celebrate the beginning of the next year in some of the world's most exciting destinations.
Most Popular Destinations in January
Caribbean Cruises in January
The most obvious reason to take a January cruise is simply the chance to enjoy the sunnier climate. You'll find that January cruise offers frequently factor in the sunniest itineraries in the world. In fact, because trade winds and hurricanes have now calmed down, January is actually one of the most active times for cruises to the Caribbean.
And no wonder, as it gives you the chance to enjoy the best of the local dry season, complete with gorgeous crystal-clear waters and immaculate white beaches, which creates a taste of ultimate relaxation. There is a huge variety of Caribbean getaways to choose from in January. Whether it's an action-packed family break or something a bit calmer and more elegant you're after, the Caribbean makes for a magnificent cruise destination at this time of year.
Far Eastern Cruises in January
A Far Eastern Cruise in January can be just what the doctor ordered to ignite your senses and delight in a truly immersive insight into a destination abundant in history, tradition and charm. With milder temperatures and drier conditions, now is the time to experience a fusion of ancient tradition and modern-day luxury. There is so much on offer, whether you want to discover archaic temples, serene landscapes and timeless traditions, or visit stylish shopping malls and delight in dazzling lights and futuristic skylines.
Popular ports of call on an Asia & the Far East cruise include: Bangkok, Singapore, Hue/Danang, Ho Chi Minh City:
Bangkok offers world-class shopping interlaced with golden temples and sacred Buddha statues
Home to the famous 'Singapore Sling' cocktail at its iconic Raffles Hotel, the cosmopolitan and dynamic city of Singapore is a wonderful melting pot of cultures with an incredible foodie culture
The largest city of Central Vietnam, Danang, offers visitors history, culture and food that are quite distinct from North or South Vietnam. Its natural beauty, broad beaches, upscale resorts and friendly residents are making this a major destination for travellers from around the world
Formerly Saigon, the innovative and fast-paced Ho Chi Minh City is the largest city in Vietnam. Most cruise ships call during the dry season, which lasts from November through April
Mexican Riviera Cruises in January
You can cruise to Mexico year-round, but the best time to visit is during its dry season, November through May. You'll find the best deals in the fall, between the two high seasons and during hurricane season.
Western Mexico consists of three states and a petite grouping of islands, featuring a picturesque coastline extending around the Baja Peninsula. A January experience on Mexico's Gold Coast may include anything from topping up your tan on the beach or kayaking a sandbar to exploring Mayan ruins or dancing in fantastic nightclubs.
If you're after a more traditional cultural experience, head over to Mazatlan. Known as the Mexican Riviera's Pearl of the Pacific, Mazatlan was also one of the original ports featured on 'The Love Boat.' It offers plenty of beaches, a vibrant artist community as well as a beautifully renovated historic centre.
Mediterranean Cruises in January
While temperatures are milder during this time of year, there are many benefits of visiting the Mediterranean in January, including:
It's quieter and has less crowds than during peak times in Summer, which means you can enjoy your port trips without constantly being surrounded by selfie sticks
It's much cheaper than peak times and market stall holders will be much more inclined to bargain with you than in summer
Speaking of markets, the Mediterranean offers some of the best European Christmas markets around
Couples without kids will find that there are less kids on board this time of year, making it quieter and more relaxing
As there are often fewer people on board, you will receive more personalised attention when it comes to shore excursions
Best Hot Weather January Cruise Destinations
Caribbean Cruises in January
The Caribbean enjoys year-round sunshine, so even in the winter months you can happily top up your tan on the fabulous beaches of the region. Rather than getting cold and wet in the UK, you can look forward to sunning yourself in idyllic tropical surroundings as you explore locations including Jamaica, Antigua, Barbados and many more. Picture yourself on beautiful sun-soaked stretches of sparkling sand, beside azure waters filled with tropical fish, or listening to calypso rhythms while the sun goes down. Round off the perfect days with a cocktail on the beach, taking in the awe-inspiring views.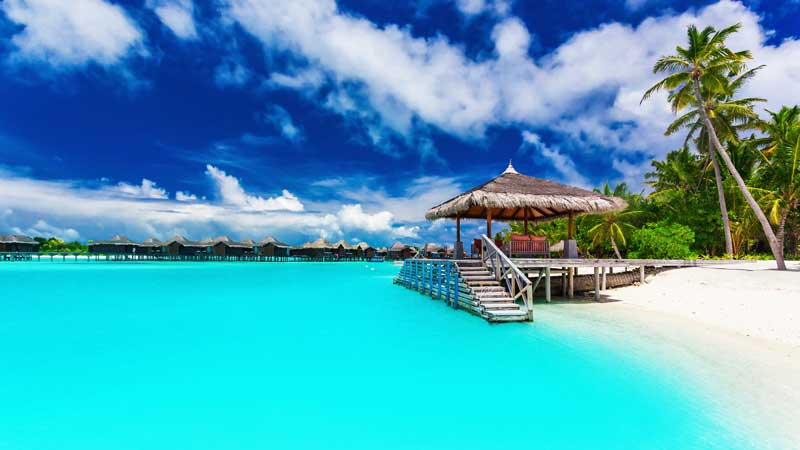 FITNESS CRUISES IN JANUARY
January is a month where our new year's resolutions are still fresh and intact, making it the perfect month to re-evaluate our exercise routines. With Christmas pounds often encroaching upon our frame, we generally take this time to revisit our plan to see if there are some things that need to be revised for the upcoming year.
A brilliant way to start your fitness routine off with a bang is to go on a January fitness cruise. One such cruise is a Royal Caribbean International Mariner of the Seas one that runs in late January, called WOD on the Waves. It brings together fitness enthusiasts, health and wellness experts, and some of the world's top athletes to celebrate the fitness community on board this ultimate fitness cruise. This is the perfect cruise to jump start your year.
Panama Canal Cruises in January
A cruise on the Panama Canal through Central America appeals to plenty of people this time of year. Cruise along one of the greatest man-made waterways in the world and pass through the heart of Central America's wildlife-rich jungles. The Panama Canal is a triumph of engineering that cuts through Central America, providing a crucial link between the Pacific and Atlantic oceans. The Panama Canal portion of the trip focuses on the transit itself, with onboard lectures as ships make their way through the locks.
Within the rest of Central America, you can put on your hiking boots and head for the rainforest or kick off your shoes and hit the golden beaches. Port highlights include Costa Rica's Puntarenas and Limon, with excursions that cater to adrenaline junkies. January and December are the two peak months, so look out for Panama Canal cruise deals as ships reposition between Alaska and Caribbean bases.
Best Cold Weather December Cruise Destinations
Norwegian Cruises in January
Norway is one of the best holiday destinations in January if you don't mind the cold at this time of year. Heading for a Norway winter cruise along the coast is one of the most naturally beautiful destinations in the world. Not only will you see breath-taking sights of the famous Norwegian Fjords, but you may also be lucky enough to observe the northern lights, one of the Earth's most awe-inspiring sights.
There are still lots of Norwegian Winter cruises available as some towns can only be reached by sea in winter months because of becoming snow bound. The cruise ships may however be smaller at this time of year. It is a popular time to visit their ice hotels or try your hand at huskie sledding. If you're going to the Norwegian Fjords specially to see the Northern Lights (also called the Aurora Borealis) do your homework on the best times to go. The best conditions for seeing this are when it's cold, dark and not cloudy, such as January or February. Winter cruises are also slightly less expensive.
Around the World Winter Cruises
If you have the budget for it and are feeling altogether extravagant, you can spend the entirety of winter cruising around the world. Leave behind the seasonal gloom in favour of indulging your curiosity for the cultures of the world by spending three months or so onboard a cruise ship. World cruises are for the brave and the bold, travelling from East to West and back again. Circumnavigate the globe and take in Barcelona, Paris, Singapore, Miami and other spectacular sights on the way.
Cruising in winter is definitely an experience worthy of your consideration. Cruise Nation will help you find the best deals and destinations for you, and before you know it, you'll be leaving on the trip of a lifetime.