In July, the cruising season in Europe is well underway! As well as the Mediterranean and Northern Europe, July is a great month for an Alaska cruise! Why not try the Norwegian Fjords, Baltic cities or explore Scandinavia for something a bit different? Italy, Spain, Portugal and Greece are real favourites during this glorious time of year! There are many other destinations that you may consider for your July cruise. We have fantastic cruise offers for July ready to book today!
Take a look at the fantastic Cruise Deals in July we have, and give us a call if you need any further information.
Why Choose a Cruise in July?
July is always the top-rated month in polls asking people what month their favourite in the year is. And why wouldn't it be with the best warm weather, school holidays on the horizon and long warm lazy days, which can be much better spent in a beer garden or poolside than by your desk? And if you want to be guaranteed good weather for the whole of July, your best option is to go on a cruise this time of year.
With the longer and warmer days, some of the most popular spots are in the Mediterranean. Almost being on our doorstep and some of which are only a no-fly cruise away, we are spoilt for choice when it comes for tour options in the Med in July. July and August are the only two months where you're guaranteed warm weather almost anywhere in the Northern Hemisphere, making it a fantastic time to travel.
July allows for memories to made with family and friends, so make sure you choose the right destination for the next one. And we are here to help you make that very important and joyful decision. From incredible value-for-money cruise and stay holidays to last minute cruises, all-inclusive deals and our popular Smart Packages, Cruise Nation has a deal to save you money on your dream cruise holiday.
Most Popular Destinations in July
Mediterranean Cruises in July
Mediterranean cruises are a great way to explore the history and iconic sites of some of the world's most well-known cities, as well as making the most of the region's favourable climate, beautiful beaches and some of the finest dishes and most delectable wines in the world.
Along the way, you can take in pristine beaches, active volcanoes, iconic classical ruins, and some of the world's most celebrated cities. You could spend a lifetime exploring the Mediterranean and still not discover its many wonders.
If you're looking for no-fly Mediterranean cruises in July from the UK, then you'll be spoiled for choice with itineraries available ranging from mini-breaks to longer itineraries of three weeks or more. Cruising from the UK is popular with a wide selection of cruise lines, meaning you can find the right ship with your ideal features.
Caribbean Cruises in July
Another popular destination for cruising in July is the Caribbean, as its actually cooler here than at some cities in the southern United States. The ocean helps moderate temperatures and allows the islands to avoid severe heat. Although the official hurricane season runs from 1st June to 30th November, the most affected months are August to October. If you're thinking of going to the US East Coast or the Eastern Caribbean, the most affected times are between August and September. If you are, however, thinking of going to the Western Caribbean islands, watch out any time between September and November.
As the Western Caribbean is mostly affected later in the year, this would be our choice for July. The Western Caribbean is also the choice for cruisers who are looking for adventure. Visit ancient ruins in Mexico, snorkel around the reefs in Belize, or simply soak up the sun in Jamaica or the Cayman Islands.
Alaskan Cruises in July
You can't go wrong visiting Alaska in July as the days are long, the salmon run upriver, and people are energized by limitless daylight. The days are so long in fact that the sky remains bright nearly all night long from late May to late July. It's a fantastic month to visit the region as some of the ice only fully melts in late June.
Experts say that mid-June to mid-July is the best time to visit Alaska, when they host most of their festivals and fairs, making it easy to meet some locals. Although June is the driest month, it's peak mosquito time, and August is the rainiest of the Summer months, making the warmest month of July peak season here.
Along with peak season comes inevitable high prices but Cruise Nation has fantastic Alaska cruise deals in July. The most important bit is to book at least a year ahead of time if you can, including securing port outings that you really want to take part in. All of Cruise Nation's smart packages include stays at hand-picked, centrally located hotels, which means you can get a true feel for Alaska in Summer. The hotels we choose from have been pre-approved to ensure you have the best experience possible.
Best Hot Weather July Cruise Destinations
Mediterranean Cruises in July
Many cruises in July explore the wonders of Europe, travelling to the warm climate of the Mediterranean. If you prefer your holidays when its hot and buzzing with energy, July is a great time to book it for. If you don't have children, book in the first two weeks for a bit more serenity, as schools break in the third week of July.
One of our favourite parts of a Mediterranean cruise is that you can visit as many countries as you want as everything is so close together. A very popular Cruise Nation Cruise is a seven-night holiday departing on the 1st of July from Rome (Civitavecchia) and visiting Cannes, Palma De Mallorca, Barcelona, Ajaccio, Genoa and La Spezia. This way you can visit all the highlights of Italy, France and Spain while enjoying all the luxury or a world-class cruise ship.
Far Eastern Cruises in July
The Far East is a great July cruise option to enjoy captivating cultures and remarkable regions. Feast your senses on out-of-this-world sights, sounds, tastes and experiences on our exciting Asia holidays. Discover China's amazing treasures, including the Forbidden City in Beijing, Hong Kong's exhilarating markets and Shanghai's lively Bund.
If you want to truly immerse yourself in Far Eastern culture throughout your trip, Cruise Nation has some fantastic Royal Caribbean options. Their culturally enriching Asian cruises bring the destination experience to life onboard. Their dining venues showcase local flavours, entertainment and activities reflect local tastes. These special sailings are very popular with guests from the region, so you will be immersed in the local culture, language and practices while still enjoying their signature service and amenities.
Australian Cruises in July
Even though its winter in Australia in July, it's still one of the best cruise destinations. The capital city of the Northern Territory of Australia, Darwin, reaches highs of 31 degrees during July with lows of just 19 degrees. Darwin is a cosmopolitan melting pot of more than fifty nationalities and the rich indigenous art can be viewed at the wonderful markets as well as the Museum and Art Gallery of the Northern Territory.
The thriving tropical city, Darwin, attracts travellers from around the world for its outdoor lifestyle and easy access to the massive Kakadu National Park in its back yard. This former frontier outpost is a little removed from the rest of the country, being closer to Bali than Bondi. With waterfront dining, crocodile adventures, rich historical experiences and access to the Tiwi Islands all within a few minutes of the city centre, there's enough to do to easily fill a few days.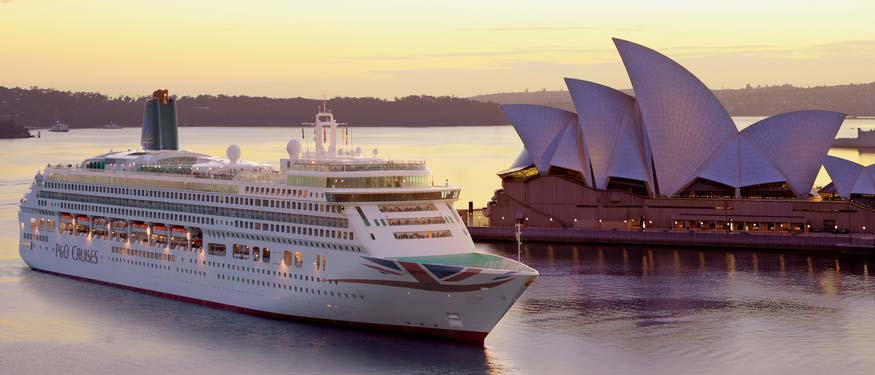 Best Cold Weather July Cruise Destinations
Norwegian Cruises in July
Norway is one of the best holiday destinations in July, especially if you go in the third week of the month when they celebrate the middle of summer. Late July is also a fantastic time to bring the kids here as Norway is very family friendly. You will notice plenty of outdoor play areas, kiddie-friendly shopping and museums. Other child friendly activities include train rides, interesting parks and aquariums.
July is also the month of the Midnight Sun, when daylight takes over, and there is no night darkness, even as far south as Trondheim. This means you'll get very long days in southern Norway or even sunshine around the clock in northern Norway, making sure you have optimum opportunity to fit in everything you want to see during port excursions.
Baltic Cruises in July
Set sail for the majestic Baltic region, with stunning landscapes and incredible sights to see all in comfortable temperatures to relax and bask in the sun. Even the Baltic is warmer in July but is considerably cooler than the rest of Europe. If you book your dream Baltics cruise in July, just remember some mozzie spray, especially if you have some nature hikes planned.
One fantastic Cruise Nation July cruise is called the Baltic Palaces & Panoramas cruise, which starts off in Copenhagen and visits, Berlin, Gdynia, Helsinki, St Petersburg, Tallinn, and finally, Stockholm. This eleven-night holiday allows you to see all the Baltic highlights by unpacking just once. Furthermore, you won't have to worry about finding transportation from port to port, island to island and country to country. Travel in luxury with top class cuisine, remarkable entertainment and onboard activities which are just a short walk away from your bedroom. Cruise Nation can help to ensure you have everything bundled together for your ultimate cruise.