Entertainment
Broadway-quality productions for you and your best friends. Kids' clubs for the little ones. Relaxing spa days for loved-up couples.
Whatever cruise line you're holidaying with and whichever part of the world you're sailing through, there's plenty of onboard entertainment and activities to while away the time. So much so, in fact, that there's a chance you won't be able to experience absolutely everything that your ship has to offer.
To get those excitement levels rising, we'll run through what you can expect from the entertainment onboard a cruise ship below.
Daytime Entertainment on Cruises
Shopping
The majority of large cruise ships have some sort of onboard mall packed with plenty of boutiques to splash out in. Whether it's something new to wear on your next shore excursion or a special treat for someone back home, you'll usually find everything from clothing, jewellery and perfume to books, alcohol and makeup while you're at sea.
Art exhibitions
Looking for a dose of culture without having to leave the ship? Finely curated collections of art can sometimes be found on certain cruise ships, giving guests a chance to indulge their more refined side. And for true art lovers, you might even have the chance to bid on some incredible works, champagne glass in hand, to bring back with you.
Swimming pools
Who doesn't love a dip when the sky is blue and the sun's shining down? Whether you're getting in a few laps, snoozing on a lounger or even honing your surfing skills, a cruise ship's swimming pools remain a go-to for any at-sea holiday.
Sports Courts
Tennis, basketball, volleyball. Whatever your sport of choice is, the on-deck sports courts of a cruise ship are your place to shine. Bring your kit and show all-comers what you're made of.
Gyms
Looking to get a few reps in? Onboard gyms make sticking to that routine easy – even when you're training hard. Expect weight machines, workout spaces and the latest gym equipment, all designed to help you get a sweat on at sea.
Fitness Classes
Hosted by trained professionals, onboard fitness classes are perfect for those who love the social side of keeping fit. From yoga and Pilates to spinning and aerobics, staying toned up on your hols and meeting your fitness goals is a breeze.
Evening Entertainment on Cruises
Casinos
Bring the glitz and glamour of Monte Carlo to your holiday by heading to an onboard casino. The stakes might not always be high, but with slot machines, poker games and more, the fun levels most definitely are.
Movies
Coming to a port near you, grab some popcorn and make yourself comfortable at your cruise ship's cinema screen. Packed with the latest blockbuster features, there's something for everyone here – from pulse-racing action to kid-friendly comedies.
Stage shows
Perhaps the crown jewel in any cruise line's entertainment offering, a bevy of Broadway-style shows, stand-up sets, musicals and live bands await you, turning up the joy and laughter while your ship sails to its next port. Prepare to be well and truly delighted.
Night clubs
If throwing shapes is your thing, then cruise ship night clubs well and truly cater to dancing shoes. Watch as bartenders prepare incredible, eye-catching cocktails, all sound tracked by DJs spinning the best music around.
Themed parties
Fancy a spot of dress up? Themed parties are definitely a cruise ship specialty. Fancy travelling back in time to the 80s, getting classy at a Gatsby Party, or turning up the heat at a Salsa night? Break out the costumes and make it a night to remember.
Entertainment for Kids & Teenagers on Cruises
Who says adults should have all the fun? For kids of all ages, there's no shortage of on and offshore enjoyment to be had.
The vast majority of cruise lines and ships have some form of kids' club onboard. Catering to little ones, teens and in-betweens, these fun hangouts are a great way for them to make new friends, discover new activities and have a great time away from boring adults.
For more information on kids' activities on a cruise ship, head here.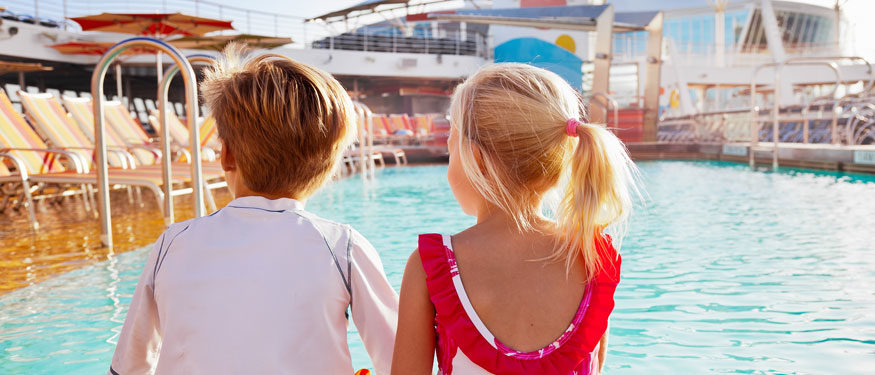 Romantic Activities for Couples
Going on a cruise for two? Whether you're newly loved-up or you and your better half go way back, couples are in for plenty of idyllic activities onboard.
Spa
There's nothing quite like unwinding with your best friend by your side. From couples' massages and pampering sessions to long, leisurely rests in a bubbling jacuzzi, treating each other has never been easier.
Dance classes
Maybe that's too laid back for you? Perhaps you're looking for something a bit more passionate? An onboard dance class could be just the ticket. Show off your skills by learning some fresh steps through the day before taking to the dancefloor at night.
Wine tasting
What could be better than sipping some of the finest wines from around the world with your significant other? And with a professional sommelier on hand to talk you through the tastes and techniques, you'll be getting an education too.
Dining experiences
A candle-lit dinner is the perfect way to finish off the evening. Surrounded by an opulent ambience, great company and divine cuisine crafted by incredible professionals, your cruise's dining experience is truly something to savour. What could be more romantic than that?
What Entertainment Does Each Cruise Line Offer?
Of course, every cruise line will differ in their selection of entertainment. A certain line might have one option but not the other – and vice versa. To avoid disappointment, it's best to do a bit of research ahead of time. Luckily, we've helped out with that too.
If you're looking for more on what to expect from the cruise lines we work with, we've got you covered here.