Penelope on Azamara Club Cruises
With Azamara Club Cruises it's all about the destination. The line puts a lot of focus on the places it sails to and the amount of time its ships spend in port. With lots of overnight stops and even more late nights in port, Azamara believes it helps customers get to the heart of a destination. Places such as Ibiza or Monaco don't come alive until after dark, so spending time there late into the night gives guests a chance to explore more. The ships are small, which means they can sail to smaller ports, and fit into the higher end of the premium market.
Azamara tends to be a hit with couples and the ships have lots of little intimate areas perfect for this target audience. The line only has two ships, and they carry under 700 passengers each, so you'll need to book early to get on your favourite itinerary... but once you're on board you are guaranteed personalised service.
Dining
Both ships share the same main dining room – Discoveries. Both ships offer tables for two for couples wanting alone time, but there is options to mingle with other passengers too. It's open seating, so you can come and go as you please. Both vessels also have the same speciality restaurants – Prime C and Aqualina. Prime C is a steak and meat restaurant and you'll find expected options including lamb, pork and beef, but it's also a popular venue for fish lovers with lots of seafood on the menu too. Aqualina is a more contemporary venue with lots of Mediterranean food. If you're a wine fan then head to the Wine Cellar!
Families
While it might not be as popular with the family market, the line does still have them on board during the summer months. The fact the line doesn't have any kid's clubs means it isn't the first choice for more facilities. On a flip side, that reason tends to make it a more popular options for couples wanting a more relaxed and adult-only vibe.
Entertainment and on-board facilities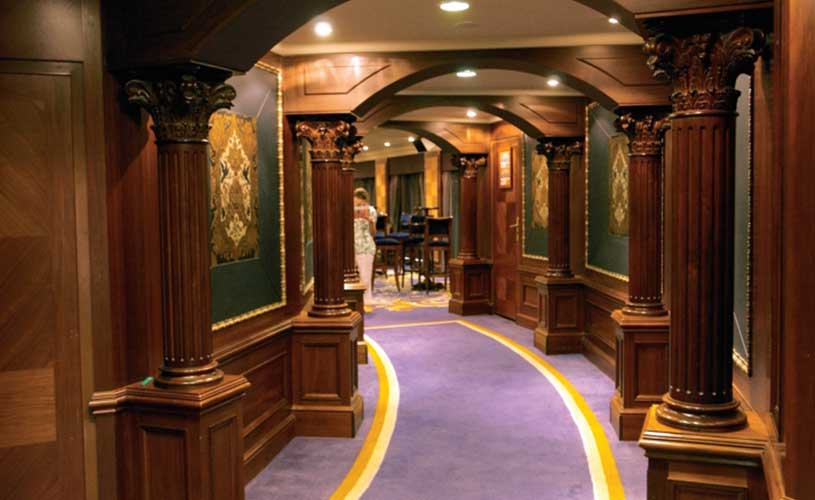 AzAmazing Evenings are exclusive events that are unique to Azamara. They're little private trips which are free to passengers and the experiences are usually things that a holidaymaker couldn't organise themselves – it's all about once-in-a-lifetime events.
The evenings are unique to Azamara and include anything from a private trip to the Mikhailovsky Theater in St Petersburg and a poolside cello concert in Przno to a flamenco show at a gothic house in Catalonia. Does it get more special than that? I don't think so!
The new Insider Access and Nights and Cool Places destination programmes are likely to give couples more reason to sail with Azamara. The line's pool parties are hit with guests and the top deck of the ship is normally full for the occasion.
If you're looking to learn during your cruise then Azamara is definitely a good choice for you with lots of Enrichment classes on offer. You can attend seminars on anything from history to destinations, wine tasting sessions and cooking demonstrations. The line definitely attracts older clientele, and the computer classes on offer are well suited to this audience with sessions dedicated to Microsoft Excel and Powerpoint.
Cabins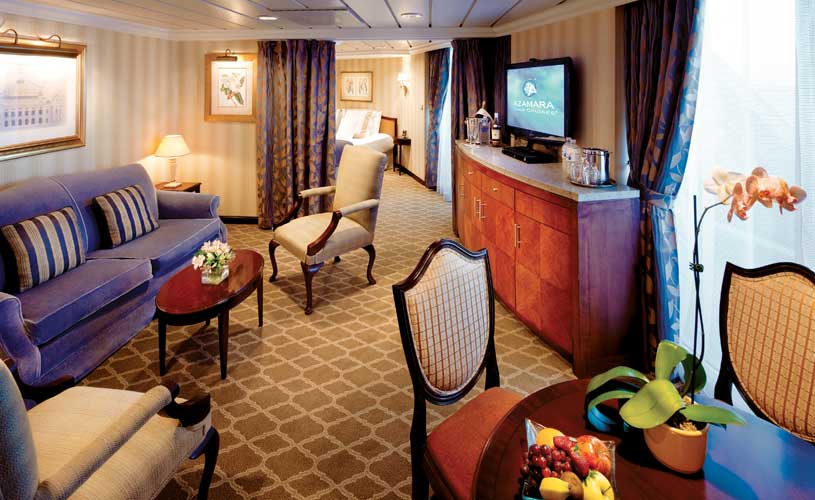 The line's cabins are a good size, although the bathrooms tend to be quite small across both ships. The cabins on Azamara Journey have recently had a revamp, so they have a more modern feel. There is a lot included in the cruise fare, with certain alcoholic and all non-alcoholic drinks included, as well as tips. For suite guests you also get more than three hours of free Wi-Fi, laundry service, complimentary dining in the speciality restaurants and afternoon tea.
All guests on Azamara Journey – regardless of whether you're staying in a suite on an inside cabin – get butler service, which is a nice touch and means the service on board is impressive.
Best Suited to...
Couples
Those who like spending more time in port
Anyone who likes touring holidays
Fans of smaller ships
Penelope x