Calgary Stampede Cruise Deals
Cruise Nation are delighted to bring you a brand new product - Calgary Stampede Cruise & Stay! Our range of fantastic deals include itineraries in the Caribbean, Alaska, New England and the West Coast of the US. In addition to these great itineraries, we're also providing FREE stays in destinations like New York, Las Vegas, Miami, Vancouver and of course, Calgary!
What is the Calgary Stampede?
The Calgary Stampede is an annual event held in Calgary, Alberta, Canada that welcomes more than 1.2 million visitors a year from around the world. In 2019, it will take place between July 5th and July 14th.
Also known as the Greatest Outdoor Show on Earth, this unique 10 day event blends the very best in Western Canadian culture and contemporary entertainment. Key highlights include the Stampede Rodeo and chuckwagon races, the Midway and a variety of musical concerts and venues featuring some of the world's most popular performers.
Rodeo
The World's Richest Tournament Style Rodeo, featuring the world's toughest competitors. There are six main events that happen daily including: ladies barrel racing, bareback, tie-down roping, steer wrestling, saddle bronc and bull riding. Rodeo happens daily at 1:15 p.m. during Stampede.
Evening Show
Brace yourself for the thunder and wonder of the GMC Rangeland Derby, and the Calgary Stampede Grandstand Show. The best of chuckwagon racing is followed by an epic stage show, making for a memorable evening. Shows start at 7:45 p.m daily during Stampede.
In addition to the world-famous rodeo, concerts, chuckwagon races, nightly evening show and constant Midway action, there are a variety of other entertaining Calgary Stampede shows that run daily, and are completely free with your Park admission. As well as your daily shows, each year, country legends, rock royalty and rising stars grace the stages of the Calgary Stampede.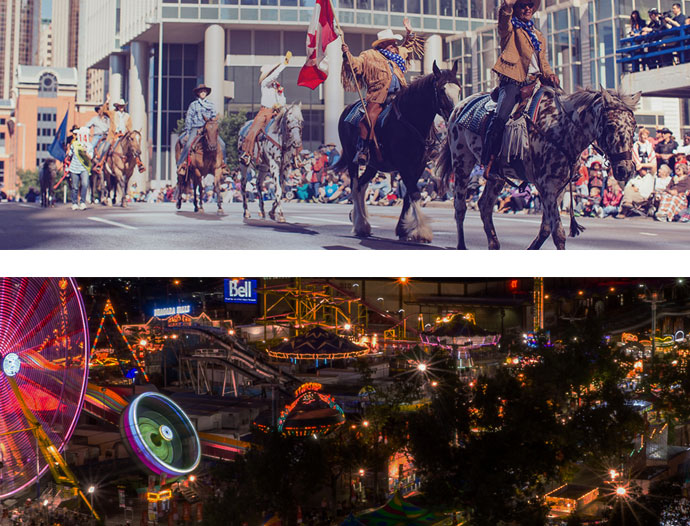 Cruise Deals departing in
Departure
What's Included?
Price (From)

Calgary Stampede with Seattle & Alaska

Seattle

-

Ketchikan

-

Juneau

-

Skagway

-

Victoria, British Colombia

-

Seattle

Star Princess | 13 nights

08 Jul 19

FREE centrally located handpicked hotel stay
Flights Included

£

1949

View Deal

North America, Alaska

Star Princess

Princess Cruises

Seattle

-

Ketchikan

-

Juneau

-

Skagway

-

Victoria, British Colombia

-

Seattle

Calgary Stampede with New York Stay

New York

-

Orlando

-

Great Stirrup Cay

-

Nassau

-

New York

Norwegian Dawn | 12 nights

27 Jun 19

FREE centrally located handpicked hotel stay
Flights Included
Free Gratuities

£

1949

View Deal

Bahamas

Norwegian Dawn

Norwegian Cruise Line

New York

-

Orlando

-

Great Stirrup Cay

-

Nassau

-

New York

Calgary Stampede with Vancouver & LA Stays

Los Angeles

-

Cabo San Lucas

-

Mazatlán

-

Puerto Vallarta

-

Los Angeles

Carnival Splendor | 14 nights

08 Jul 19

FREE centrally located handpicked hotel stay
Flights Included

£

2049

View Deal

Mexico

Carnival Splendor

Carnival Cruise Line

Los Angeles

-

Cabo San Lucas

-

Mazatlán

-

Puerto Vallarta

-

Los Angeles

Calgary Stampede with Vancouver & Vegas Stays

Vancouver

-

San Francisco, California

-

Los Angeles

Queen Elizabeth | 14 nights

28 Jun 19

FREE centrally located handpicked hotel stay
Flights Included

£

2069

View Deal

Panama Canal

Queen Elizabeth

Cunard

Vancouver

-

San Francisco, California

-

Los Angeles

Alaska & Calgary Stampede

Vancouver

-

Icy Strait Point, Alaska

-

Hubbard Glacier

-

Juneau

-

Ketchikan

-

Vancouver

Celebrity Eclipse | 12 nights

28 Jun 19

FREE centrally located handpicked hotel stay
Flights Included

£

2089

View Deal

Alaska

Celebrity Eclipse

Celebrity Cruises

Vancouver

-

Icy Strait Point, Alaska

-

Hubbard Glacier

-

Juneau

-

Ketchikan

-

Vancouver

Calgary Stampede with Miami Stay

Miami

-

Philipsburg, St Maarten

-

San Juan, Puerto Rico

-

Labadee

-

Miami

Symphony of the Seas | 14 nights

26 Jun 19

FREE centrally located handpicked hotel stay
Flights Included

£

2199

View Deal

Caribbean

Symphony of the Seas

Royal Caribbean International

Miami

-

Philipsburg, St Maarten

-

San Juan, Puerto Rico

-

Labadee

-

Miami

Calgary Stampede with San Francisco Stay

San Francisco, California

-

Juneau

-

Skagway

-

Sitka

-

Victoria, British Colombia

-

San Francisco, California

Grand Princess | 15 nights

24 Jun 19

FREE centrally located handpicked hotel stay
Flights Included

£

2329

View Deal

Alaska

Grand Princess

Princess Cruises

San Francisco, California

-

Juneau

-

Skagway

-

Sitka

-

Victoria, British Colombia

-

San Francisco, California

Calgary Stampede with Montreal & Boston Stays

Montreal

-

Quebec

-

Charlottetown

-

Sydney, Canada

-

Halifax

-

Bar Harbor

-

Boston, USA

Zaandam | 15 nights

27 Jun 19

FREE centrally located handpicked hotel stay
Flights Included

£

2419

View Deal

North America

Zaandam

Holland America Line

Montreal

-

Quebec

-

Charlottetown

-

Sydney, Canada

-

Halifax

-

Bar Harbor

-

Boston, USA