In December, there are some incredible offers on Christmas and New Year cruises. In general, the Caribbean is the place to be, but you can get a bargain if you don't mind the cooler temperatures of the Mediterranean. The Canary Islands is very popular at this time of year as the weather is generally good. We have fantastic cruise offers for December ready to book today!
Take a look at the fantastic Cruise Deals in December we have, and give us a call if you need any further information.
Most Popular Destinations in December
Mediterranean Cruises in December
While temperatures are more mild during this time of year, there are many benefits of visiting the Mediterranean during the festive season, including:
It's quieter and has less crowds than during peak times in Summer, which means you can enjoy your port trips without constantly being surrounded by selfie sticks.
It's much cheaper than peak times and market stall holders will be much more inclined to bargain with you than in summer.
Speaking of markets, the Mediterranean offers some of the best European Christmas markets around.
Couples without kids will find that there are less kids on board this time of year, making it quieter and more relaxing.
As there are often fewer people on board, you will receive more personalised attention when it comes to shore excursions.
Caribbean Cruises in December
Christmas conjures very specific thoughts and feelings for most people. We mostly associate it with comfy warm fires, the pine-fresh aroma of Christmas trees, and sparkling white snow. But why not skip the cold weather Christmas this year and head to the sunny Caribbean shores? A Caribbean cruise in December is the perfect way to say goodbye to the cold and experience a tropical paradise of absolute serenity.
Caribbean cruises are very popular in December as people head there to enjoy the best of the local dry season, complete with gorgeous crystal-clear waters and immaculate white beaches, which creates a taste of ultimate relaxation. There is a huge variety of Caribbean getaways to choose from in December. Whether it's an action-packed family break or something a bit calmer and more elegant you're after, the Caribbean makes for a magnificent cruise destination at this time of year.
Far Eastern Cruises in December
Although some of us may associate Hong Kong more with Chinese New Year, seeing the Western New Year in with a bang is as easy in Hong Kong. With thousands upon thousands of revellers lining the famous Victoria Harbour for the NYE countdown, a spectacular fireworks display set to music promises to light up the night sky. The Victoria Harbour fireworks event is extremely popular, and you want to arrive early to make sure of a good vantage point. Popular viewing points include the New Central Harbourfront at Hong Kong Island, the Tsim Sha Tsui waterfront at Kowloon, and the Golden Bauhinia Square in Wan Chai.
Another great New Year's Eve spot is the dynamic and cosmopolitan Singapore, a city with a melting pot of cultures and incredible foodie culture. There are some incredible fireworks and light displays at the Merlion Park, where you'll also get the chance to snap a picture with the iconic Merlion statue, a mythological creature of half-fish and half-lion. Or head to the Marina Bay Sands SkyPark Observation Deck, one of the best places to visit and give you a spectacular view over the whole city's fireworks displays.
The Baltics and Scandinavian Cruises in December
The Baltics and Scandinavia are extremely beautiful and Christmassy to visit during the festive season. And the plus side is that many cruises depart directly from Southampton, which makes it a hassle free no fly cruise.
One of the highlights of these type of cruises is definitely Copenhagen, as its one of the most fesstive cities in the world. During Christmas time, the picturesque old harbour Nyhavn is transformed into one of the cosiest Christmas markets in Copenhagen. At the Nyhavn Christmas market, you will find entertainment, delicious Christmas foods and brews, mulled wine and much more. All along the water in the old harbour, stalls are set up and decorated, offering traditional Danish Christmas specialities and Christmas presents.
Best Hot Weather December Cruise Destinations
Australian Cruises in December
Sydney is a fantastic hot weather destination to ring in the New Year. It's Australia's most popular cruise destination with its iconic images of Sydney Opera House and Sydney Harbour Bridge, where the most fireworks are set off. This city really knows how to celebrate the new year and have so much to offer at this time. You can expect a light parade, Aboriginal dancing, aerial displays and, most importantly, incredible fireworks.
Australia is also an incredible place to celebrate a true hot weather Christmas where roasts and snow are effortlessly replaced by 'barbies' and beaches. From the breath-taking beauty of Auckland's volcanic landscapes to the buzzing arts and entertainment scene of Melbourne, you'll be blown away by the exciting destinations and activities on offer down under.
South American Cruises in December
South America is one of the best hot weather cruise destinations in December and Rio de Janeiro is definitely a highlight. Year after year, Rio ranks top of the list of the world's best places to celebrate New Year's. With awe-inspiring fireworks displays, a mix of spiritual and superstitious rituals, and up to 2 million people happily crammed onto the famous Copacabana beach, it's not hard to see why.
Rio also houses some of the most famous landmarks in the world: Sugar Loaf Mountain at the mouth of the Bay, the sun-soaked sands of Copacabana Beach and the magnificent Christ the Redeemer. One of the best ways to explore Rio de Janeiro is to do a stay and cruise, where you can spend a few days here before embarking on a spectacular cruise of South America.
Dubai Cruises in December
While Dubai isn't the most Christmassy of destinations, it's the shopping mecca of the world, making it the perfect place to shop for Christmas presents. The United Arab Emirates' showcase of excess and opulence overflows with wealth and this metropolis is home to the biggest mall in the world which has 1,200 stores spread across four stories. Perfect to shop until you drop. And if you miss the idea of a white Christmas a bit too much you can even throw snowballs at Ski Dubai.
Dubai's legendary New Year's Eve celebrations are also a highlight of the year. The city is known for hosting a magnificent display of lights every year that attracts hundreds of thousands of spectators around the world. This year won't be any different, with an extravagant pyrotechnic show at Burj Khalifa, the tallest skyscraper in the world, and water-music dance at the Dubai Fountain.
Best Cold Weather December Cruise Destinations
Hamburg Christmas Cruises
If you time your cruise well, you'll be able to visit the Christmas market in this fantastic city as well as enjoying your New Year's Eve blowout. There are plenty of no fly cruises available from Southampton that stops off at Hamburg. And if you're lucky enough to spend Christmas in Hamburg you'll realise why everyone says Germans do Christmas better. They are the tinsel-covered, carol-singing, fairy-light-swinging Christmas champions of the world and their Christmas markets are legendary.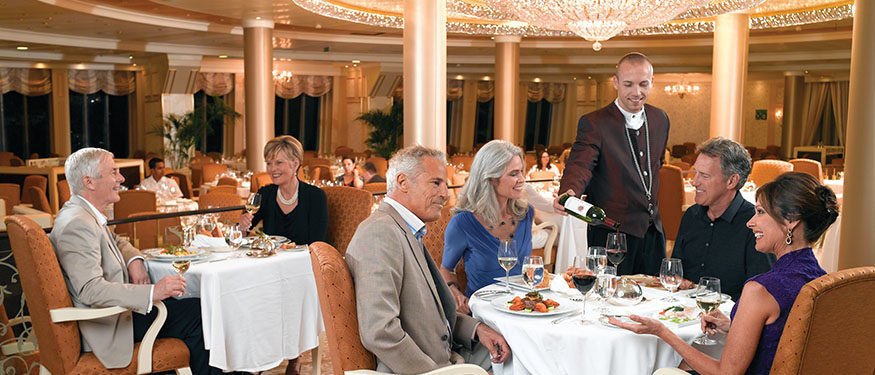 New York Christmas and New Year's Cruises
New York, the big city of dreams, is one of the best places in the world to spend Christmas and New Year's Eve. Explore the famous Central Park where you can ice skate outdoors, see the spectacular and often outrageous window displays in Manhattan, see the stunning, giant Christmas tree outside Rockefeller Centre, and watch the Times Square ball drop on New Year's Eve. Expect an abundance of snow and lots of festivities.
It's no secret that New York is magical on New Year's Eve. We've probably all seen footage of the ball dropping on Times Square at midnight and it is truly THE place to be when the clock strikes twelve. The city does get cold though, so remember to pack your winter woollies for this cruise.
Here are three excellent ways to spend NYE in NY:
Feast Your Way into the New Year, either on board your cruise ship or at one of the plethora of fantastic New York restaurants. Reservations are essential.
Celebrate New Year's Eve in Times Square
Ring in the New Year from the New York Harbour, one of the best places to see the fireworks
A great way to see the Big Apple is a stay and cruise, as it's the largest cruise departure city in the Eastern Seaboard. If you're planning to go during Christmas time, just be aware that the city has proper seasons and winters can be bitterly cold, so pack accordingly.