Fire & Ice
Take advantage of our very best Fire & Ice deals right now, with huge savings of up to £2000 per couple.
What better way to take in the magnificent glaciers of Alaska than from your very own balcony cabin? And with a stay in stunning Hawaii, you'll have the best of both worlds.
Our Fire & Ice deals really do offer something special and unique. As well as experiencing the incredible destinations of Alaska and Hawaii, you'll also get to experience other fantastic destinations such as Seattle and Chicago to visit along the way - you certainly won't be lacking in variety for your next voyage when you choose a holiday of a lifetime - Fire and Ice!
What's included?
An Experience Beyond Compare
Discover Two Contrasting Worlds
Being able to experience totally different landscapes, temperatures and cultures in one holiday is a rare treat. At least without breaking the bank that is! Luckily for you however, our smart packages dramatically reduce the cost of a once in a lifetime experience like this, and enable you to get a taste of two very different worlds. A beautiful and remote paradise, Hawaii, is an incredible destination packed with wonderous surprises at every turn. Beaches that look like they've been plucked out of a film, rugged cliff faces, and volcanoes, make Hawaii a must visit. Almost its polar opposite, Alaska is equally magnificent in its own way. A majestic realm of ice, lakes, mountains, and wildlife, Alaska offers some truly unique experiences for travellers looking for a real adventure.
DESTINATIONS ON OFFER
Honolulu
Seattle
Juneau
Ketchikan
Sitka
Skagway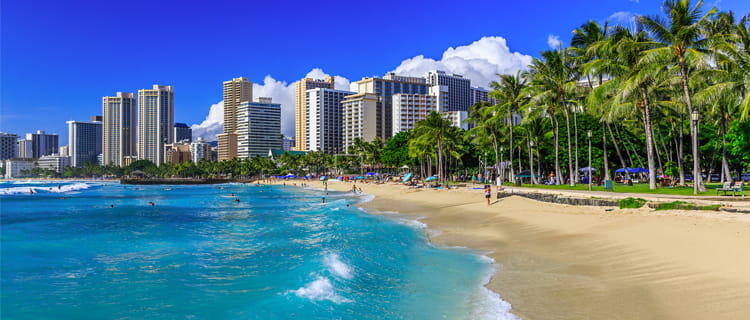 Honolulu
Honolulu is Hawaii's state capital and its appeal ranges from its magnificent beaches, finest Hawaiian restaurants, and a multitude of historic museums, cultural and scenic attractions.
Points of Interest
---
Pearl Harbor & USS Arizona Memorial
A top tourist destination in Hawaii, this historic harbour features five site honouring the crewmen who lost their lives during the Japanese attack on 7th December, 1941.
Diamond Head Crater
Formed more than 100,000 years ago, this crater was used as a strategic military lookout. It was named by 19th century sailors who thought they discovered diamonds, however they were calcite crystals.
Pali Lookout
A favourite amongst visitors to Oahu, this breathtaking vantage point offers panoramic views of the windward side of the Island.
Queen Emma Summer Palace
This beautifully preserved Hawaiian-Victorian Palace was the summer retreat of the Hawaiian monarchy, this special museum houses a collection of Queen Emma's belongings as well as royal antiques.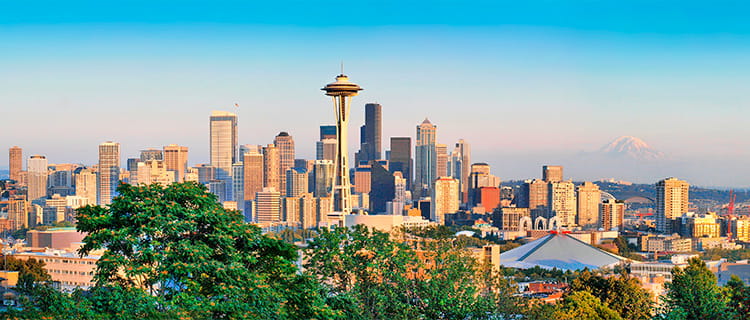 Seattle
Seattle is a relatively young city with a rich history. Settlers first landed at Alki Point in 1851 and named the area after an Indian chief who befriended them called Sealth. Seattle's spectacular natural surroundings and rich culture attracts visitors from around the world.
Points of Interest
---
Space Needle
Seattle's most iconic structure, at a height of 605 feet, the Space Needle offers spectacular panoramic views of the city and beyond.
Pioneer Square
A 17 square block located in the southwest corner of downtown, here you can explore the beauty of the architectural masterpieces of Seattle's oldest neighbourhood.
Pike Place Market
One of Seattle's most iconic attractions, Pike Place Market is the oldest open air farmers market on the west coast. Wander its maze of arcades and storefronts and sample the local produce thats on offer.
Hiram M. Chittenden Locks
Built in 1911, these locks are one of Seattle's most popular visitor attractions. Make sure you check out the fish ladders, if you're lucky you might see a huge Pacific Northwest salmon jumping.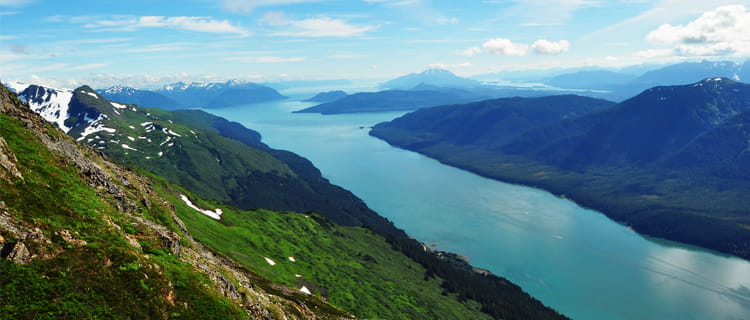 Juneau
Juneau is the capital city of Alaska and the second largest city in the United States by area. Today it's famous for gold mining and also for its breathtaking beautiful glaciers and stunning views of both water and mountains.
Points of Interest
---
Mendenhall Glacier
Juneau's most popular attraction is the mighty Mendenhall Glacier. This amazing glacier is 12 miles long stretching from the Juneau Icefield to Mendenhall Lake.
Mount Roberts Tramway
Take a tram ride to the top of Mt. Roberts for some stunning panoramic views of the channel and city below. Mountain top attractions include trails, shops and nature displays.
Whale Watching
Explore the clear blue waters of Alaska's inside passage where you can witness hundreds of whales and Orca's frolic in their playground.
Macaulay Salmon Hatchery
Witness the hundreds of adult salmon swim up a 450 foot fish ladder, explore the inside aquarium that showcases local marine life in their natural environment.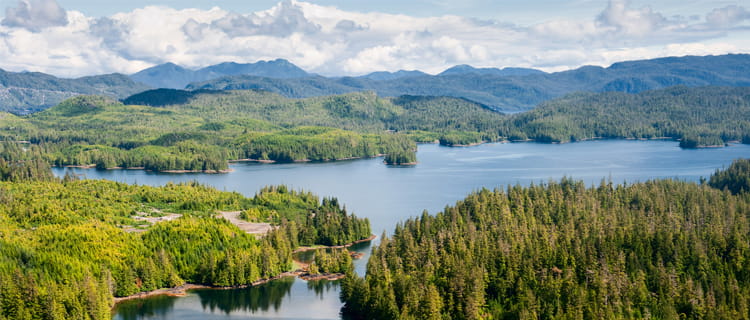 Ketchikan
Ketchikan, is known as "The Salmon Capital of the World." Set in the southern most entrance to Alaska's famed Inside Passage it offers some of the most jaw-droppingly beautiful wilderness in the world.
Points of Interest
---
Totem Bight State Park
This 11 acre park is home to 14 totem poles that each tell their own story, a 19th century clan house that offers an insight into the Tlingit and Haida Indian cultures.
Misty Fjords National Monument
A natural mosaic of sea cliffs, steep fjords and rock walls that jut 3000 foot out of the ocean created by the hands of nature. Misty fjords has an abundant and varied wildlife including mountain goats, black bears, killer whales and harbour seal.
Creek Street
This historic boardwalk along the banks of Ketchikan Creek was a former Red Light District. Today you can tour Dolly's House museum, view totem poles and enjoy the local art and culture.
Great Alaskan Lumberjack Show
Watch as world champion athletes battle it out in chopping, sawing, tree climbing, axe throwing, and log rolling in this show of amazing skill and strength.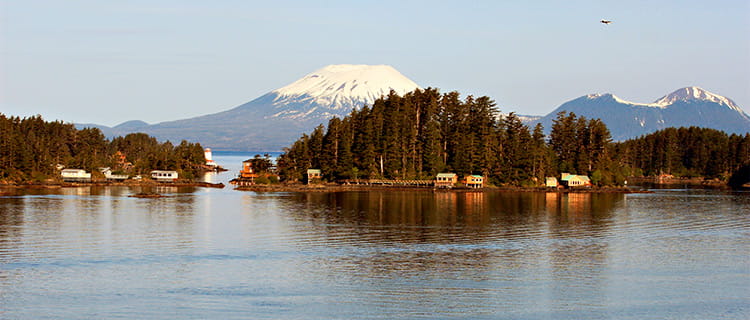 Sitka
Picturesque Sitka is thought to be one of the most beautiful cities in Southeast Alaska, sitting opposite the snow-capped Mount Edgecumbe and the Pacific Ocean its famous for its fishing, its annual summer classical music festival and historic visitor attractions.
Points of Interest
---
Sitka National Historical Park
This is Alaska's smallest national park, and the site where the Tlingits we defeated by the Russians in 1804. Explore the Totem Trail before you eventually arrive at the site of the Tlingit fort near Indian River.
Russian Blockhouse
The Blockhouse is a re-creation of a Russian guard house used to protect their stockade from the Tlingit Natives and surrounding wilderness.
Princess Maksoutoff's Grave
You can view the tiny grave site of Princess Maksoutoff who was the first wife of Alaska's last American governor, Dimitrii Maksoutoff.
Castle Hill & Totem Square
Castle Hill is a state historical site, it was here on 18th October 1867 that the official transfer of Alaska to Russia to the USA took place. Totem Square features Russian cannons and a totem pole.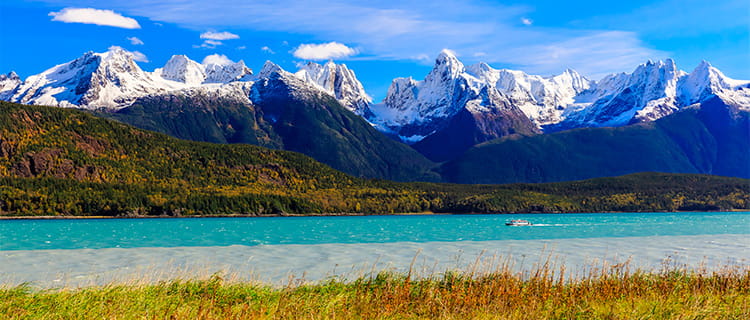 Skagway
Skagway has a colourful history, it was the starting place for more than 40,000 gold rush stampeders in 1897. Today, Skagway is one of the most interesting and popular towns to visit in the Inside Passage.
Points of Interest
---
White Pass & Yukon Route Railroad
The historic White Pass & Yukon route links Skagway with Yukon, Canada. A 41 mile roundtrip offers spectacular scenery on your journey to the summit of the White Pass.
Red Onion Saloon
Visit the historic Red Onion Saloon, which was Skagway's most exclusive bordello. Join a Madam for a tour of this historic brothel museum!
Yukon
Yukon is a wilderness playground with an extensive network of waterways. The 65 mile drive from Skagway, the lush costal landscape gives way to rugged wilderness.
Haines
Haines has year round fun for the entire family. With fascinating history, intriguing culture, breathtaking scenery and adventures to last a life time, Haines is not like any other destination.