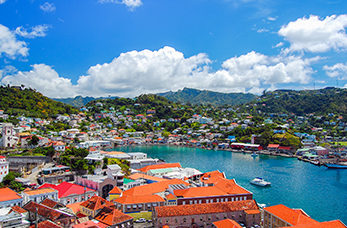 Grenada
Known as the "Isle of Spice" Grenada is an island country consisting of itself and six smaller islands. It's one of the world's major producers of nutmeg, mace, clove, cinnamon and cocoa making it a feast for the senses.
Points of Interest
---
Grand Etang National Park
The most popular area in Grenada for hiking and trekking, this national park offers miles of trails and scenery.
Fort Frederick
A small fort built by the British is located on top of Richmond Hill, with a commanding vantage point offering an amazing view of Grenada.
Annandale Falls
Take a gentle stroll through the well tended gardens and wall of rock to get to this picturesque waterfall that cascades down 30 feet into a pool of water where you can take a an invigorating dip.
Morne Rouge
The tranquil turquoise waters, white sand and natural setting of Morne Rouge makes this beach one of the best.
Grand Anse
This tourist town is famed for its beach located on Grenada's calm leeward south coast, packed with activities such as water-skiing, parasailing or kayaking.
Fort George
The gorgeous views overlooking the harbour entrance make this 18th century structure such a popular attraction today.
var chartData = [[7,9,13,17,22,26,28,28,24,18,12,8]]; filter.location = "venice"; filter.baseURL = "https://www.cruisenation.com/2_venice_dump_";
You have reached the end of this page. Go back to the top?
You have reached the end of the footer. Go back to the top?