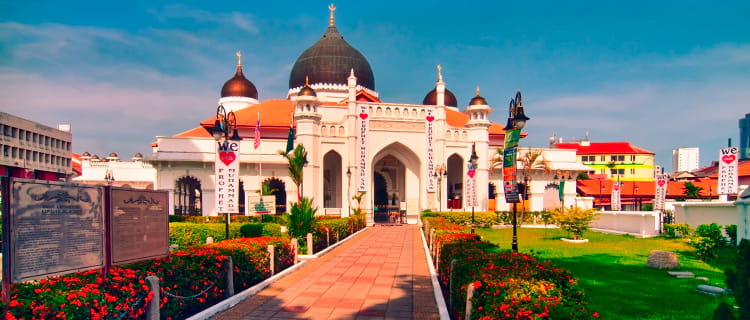 Penang
Penang, nicknamed the 'Pearl of the Orient' is a fascinating fusion of East and West whilst keeping its old world charm. Listed as a UNESCO World Cultural Heritage Site in 2008, Penang has no shortage of cultural sights and natural scenery as well as scrumptious cuisines and beautiful coasts.
Points of Interest
---
Penang Butterfly Farm
Opened in 1986 this peaceful haven features more than 4,000 butterflies as well as other insects and reptiles. The farm sits at the foot of the Teluk Bahang hills and is one of Penang's best known and most popular tourist attraction.
Wat Chayamangkalaram (Reclining Buddha)
The Temple of the Reclining Buddha is a traditional Thai Buddhist temple which features a 33m long reclining Buddha draped in a gold leaf saffron robe.
Khoo Kongsi
The Khoo Kongsi is a large Chinese clan house, it features elaborate ornamented architecture and gorgeous ceramic sculptures of immortals, carp and dragons across the roof ridges.
Botanical Gardens
Once a granite quarry, these gardens were founded in 1884 by the British, explore the grounds and see monkeys, squirrels, butterflies as well as collections of cacti, ferns, bamboo and flowering trees.
var chartData = [[7,9,13,17,22,26,28,28,24,18,12,8]]; filter.location = "venice"; filter.baseURL = "https://www.cruisenation.com/2_venice_dump_";
You have reached the end of this page. Go back to the top?
You have reached the end of the footer. Go back to the top?