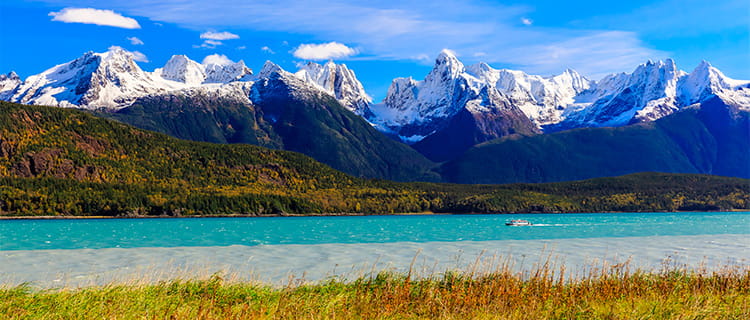 Skagway
Skagway has a colourful history, it was the starting place for more than 40,000 gold rush stampeders in 1897. Today, Skagway is one of the most interesting and popular towns to visit in the Inside Passage.
Points of Interest
---
White Pass & Yukon Route Railroad
The historic White Pass & Yukon route links Skagway with Yukon, Canada. A 41 mile roundtrip offers spectacular scenery on your journey to the summit of the White Pass.
Red Onion Saloon
Visit the historic Red Onion Saloon, which was Skagway's most exclusive bordello. Join a Madam for a tour of this historic brothel museum!
Yukon
Yukon is a wilderness playground with an extensive network of waterways. The 65 mile drive from Skagway, the lush costal landscape gives way to rugged wilderness.
Haines
Haines has year round fun for the entire family. With fascinating history, intriguing culture, breathtaking scenery and adventures to last a life time, Haines is not like any other destination.
var chartData = [[7,9,13,17,22,26,28,28,24,18,12,8]]; filter.location = "venice"; filter.baseURL = "https://www.cruisenation.com/2_venice_dump_";
You have reached the end of this page. Go back to the top?
You have reached the end of the footer. Go back to the top?