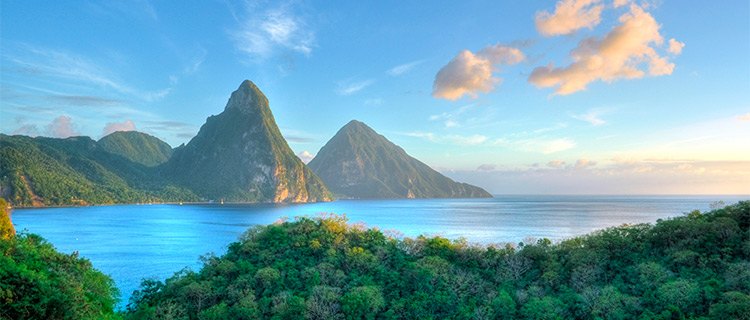 St Lucia
St. Lucia is an oasis of tropical calm, the island's capital Castries is a town of pastel coloured colonial buildings. This beautiful island welcomes visitors drawn to its exotic tropical landscapes, superb beaches and colourful marine life.
Points of Interest
---
The Pitons
These majestic twin peaks, a UNESCO World Heritage Site, seem to rise straight from the blue waters of the Caribbean Sea. Each tower created from hardened lava soars over 2,000 feet in the air.
Sulphur Springs Drive-In Volcano
Enjoy a short tour of the world's only drive in volcano and see the bubbling pools letting off puffs of odorous steam.
Outdoor Adventure
Zip lining, horseback riding, whale and dolphin watching, the aerial tram and 4WD fun are all trademarks of St. Lucia.
Pigeon Island
This beautiful 40-acre islet is a nature park reflecting a thousand years of history. The elegantly restored 1808 British officers mess building is the Museum and Interpretive Centre.
Morne Fortune
Visit Iniskilling Monument erected in 1932 to honour the Regiment that captured the Morne for the British in 1796, you can also enjoy sweeping views from this strategic outpost.
Soufriere
The reputed birthplace of Napoleon's Empress Josephine, Soufriere is the island's oldest town. Visit the marketplace with its colourful murals and gingerbread trim.
Marigot Bay
Described as "the most beautiful bay in the Caribbean" by author James Michener this lush yachtsman's haven has been in films including ''Dr. Dolittle'' and ''Fire Power.''
Diamond Botanical Gardens
Step into a world where waterfalls gush from the mouth of a volcano, and explore the nature trails, hot mineral springs fill the baths with age-old medicinal waters and flora and fauna abounds.
var chartData = [[7,9,13,17,22,26,28,28,24,18,12,8]]; filter.location = "venice"; filter.baseURL = "https://www.cruisenation.com/2_venice_dump_";
You have reached the end of this page. Go back to the top?
You have reached the end of the footer. Go back to the top?