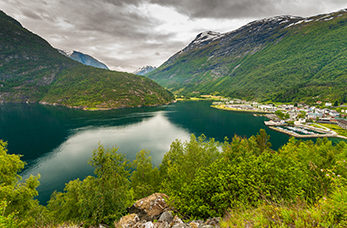 Hellesylt
This old Viking port is your gateway to the scenic wonders of the Geirangerfjord district. Offering stunning vistas of mountains, waterfalls and ferocious white water rivers teeming with salmon.
Points of Interest
---
Geirangerfjord
Considered by many to be the most beautiful fjord in the world, Geirangerford and its landscape is included on UNESCO's list of World Heritage Sites.
Flydalsjuvet
Offering an impressive view over Geiranger and GeirangerFjorden, Flydalsjuvet is one of the most photographed sights in Norway.
Jostedalsbreen National Park
The largest glacier on mainland Europe is surrounded by Jostedalsbreen National Park, covering about 310 square miles of the park.
Mt. Dalsnibba
Make sure you visit one of the world's finest views offering breathtaking views of the Geirangerfjord, the mountains summit is 4,757 feet above sea level.
Briksdal Glacier
This famous glacier arm is one of the best known arms of the Jostedalsbreen Glacier, marvel at this glacier and its mighty mountains that surround it.
Buldrefossen Waterfall
Videfossen Waterfall (also known as Buldrefossen waterfall) here you can witness the thunderous Waterfall as it dives to the valley below.
var chartData = [[7,9,13,17,22,26,28,28,24,18,12,8]]; filter.location = "venice"; filter.baseURL = "https://www.cruisenation.com/2_venice_dump_";
You have reached the end of this page. Go back to the top?
You have reached the end of the footer. Go back to the top?